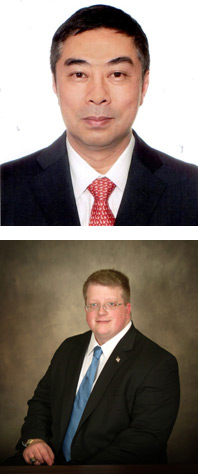 Miami Law's Robert Traurig-Greenberg Traurig LL.M. in Real Property Development Distance Learning Program is reaching students across the globe. The program, which began in 2009 with an initial enrollment of just 4 students, has now grown to a current enrollment of 26.
"Our distance learning program provides a high quality educational experience to students across the world whose circumstances do not allow them to move to Miami for nine months to attend our full-time program," says Douglas Bischoff, Director of the Graduate Program in Real Property Development.
Carman Feng started the program this past September. Feng lives in Hong Kong and the online program allowed him to start working towards his LL.M. right away. "I thought the on-line course might not be as good as traditional delivery. It turned out that in some ways, it is better since it allowed me to rewind or pause as required," says Feng.
The Distance Learning Program is designed to be completed in 2-3 years and students are allowed up to 5 years to complete the program. Students are able to view each course within 24 hours of the live presentation and while most of the classes are offered online, several classes are offered on campus only. Students are also required to be on campus, in Miami, for approximately two weeks each semester.
For attorney John Labar LL.M. '13, distance learning was his only option in furthering his education. As a named partner in a law firm located in Tullahoma, Tennessee, Labar knew it wasn't feasible to give up his practice he had worked for over a decade to build. The online courses allowed him to work around his schedule. "I would normally come home and while eating dinner start watching a class from beginning to end. While sitting there watching the class, it felt like I was part of the class as most professors took the time to use the microphones and stay in camera range."
And by being required to come to campus, students like Labar are able to meet their fellow classmates and professors and still build relationships in person. But distance learning is not for everyone. An element is the need for self-discipline, says Labar. "Keeping up with the assignments, projects, readings, and watching the classes takes quite a bit of discipline and hard work. The program, while highly rewarding, is not easy."
Both Labar and Feng, however, highly recommend the LL.M. program to other attorneys who want to fine tune their skills in the areas of real property and development and to new graduates who want immediate experience in these areas.
Click here for more information on the Distance Learning Program.