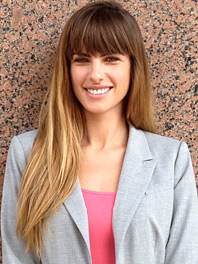 The Editorial Board of Volume 68 of the University of Miami Law Review has been posted. Candidates were invited onto UMLR because they either placed in the top 6.5% of their class, or because they placed in the top 33 and 1/3% of their class or section and won the UMLR Writing Competition.
Kelly Heard is Editor-in-Chief of Volume 68 of the University of Miami Law Review. A Massachusetts native, Heard received her Bachelor of Science degree in Mass Communication from Boston University and her Master of Science degree in Sport Management from the University of Massachusetts, Amherst.
Prior to law school, Heard was Quality Control Manager for Gillette Stadium, the New England Patriots, and the New England Revolution, in Foxborough, Massachusetts, where she oversaw general liabilities claims, planned internal stadium events, and managed the stadium's quality control and designated driver programs. Heard also spent a year working directly for Club Counsel for the New England Patriots and Senior Advisor to The Kraft Group.
While in law school, Heard has held internships with the Massachusetts Attorney General's Office, Miami Law Innocence Clinic, United States Magistrate Judge Peter R. Palermo, and most recently, the United States Attorney's Office for the Southern District of Florida.
As part of her writing requirement to earn membership onto the University of Miami Law Review, Heard examined the concussion epidemic in the National Football League and analyzed the consolidated concussion lawsuit that former players have brought against the National Football League. Hard Knocks: How the NFL Will Strike Former Players' Concussion Complaint from Federal Court will appear in the first issue of Volume 68 of the University of Miami Law Review.
Additionally, the following students were named to the Executive Board of the Law Review:
Executive Editors - Natalie Harrison and Ross Chaffin
Senior Articles Editor - Matthew Kohen
Senior Notes and Comments Editors - Juan Carlos Zamora and Logan Haine-Roberts Eleventh Circuit Editor - Paulina Valanty
Managing Editor - Cushla Talbut
Writing & Research Editor - Zach Ludens
Projects Editor - Mick Erlandson
Online Editor - Freddi Mack
Articles & Comments Editors - Eryca Schiffman, Leslie Pollack, Adam Fischer, Brian Schmelkin, Samantha Hayworth, Lacey Stutz, Bryan Vega, and Brendan Ryan
New members include: Caitlin Burke, Daniel Butler, Stacy Byrd, Melissa Coates, Christina Flatau, Alexander Heydemann, Christina Himmel, Michael Lewenz, Alyssa Williams, Lindsey Maultasch, Kyle Ohlenschlaeger, Gabriela Pirana, Bernadette Sadeek Jordan Shaw, Scott Squires, Joshua Truppman, Eamon Welch, Dave Werner, Leah Weston, Jenna Winchester, and Kathryn Yankowski.
New candidates are Leah Aaronson, Lindsay Adkin, Karla Albite, Kelly Balkin, Bethany Bandstra, Brittany Brooks, Katherine Clemente, David Coulter, Danielle Coupet, Trey Dahl, Lisa Ebenstein, Jenna Feldman, Erin Fitzgerald, Gregory Fontela, Brittany Ford, Victor Hanna, Antonio Hernandez, Adam Hoock, Anaili Medina, Benjamin Muschel, Amanda Parra, Gina Rhodes, Erin Sales, Adrienne Scheffey, Sara Solano, Shekida Smith, Steven Swartz, Craig Tompkins, Elizabeth Trenary, Dana Turjman, Maximilian Viski-Hanka, and Daniel Wolfe.