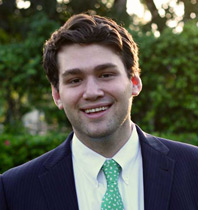 For Cliff Friedman, a rising 3L student, participating in pro bono work has further developed his sense of empathy and compulsion to give back as a problem-solver.
"It's so much easier to advocate for someone when you understand where they're coming from, which you really can't do if you just look at a file," he said.
Friedman, who served this summer as an Alternative Dispute Resolution (ADR) intern at the United States Equal Employment Opportunity Commission in Miami, explains that his experiences have helped him grow. He has been given the opportunity to observe, co-mediate and lead mediations.
His participation in several mediations has given him a keen a sense of the flexibility required of a mediator. "You get to see what style works best for each attorney," he said. "You have to know how important communication is, and I think there's a lot to be said for listening, too."
Friedman is not a stranger to pro bono work. Last summer, he worked at the Legal Services of Greater Miami as a Summer Public Interest Fellow.
"Generally, I think it's an integral part of the law school experience, doing some pro bono work," Friedman said. "We come into law school with so many different backgrounds ... pro bono work opens a world up for people's experiences and allow you to empathize with issues people are going through and it allows you to be a better advocate for them."
He spoke in appreciation of the HOPE Public Interest Resource Center office and its director, Marni Lennon.
"She and the program have helped me realize that you could work in the public interest in any field," Friedman said. "You just have to find what you love and find the way to serve the public interest through the work that you do. That's what's guided me through Miami Law."
Friedman also spoke about his career plans for the future.
"As far as my career, the most important thing for me is to be able to use my education and training to facilitate tangible changes in people's lives," he said. "The skills and techniques involved in ADR are applicable to any problem. Getting people to communicate and collaborate is an essential skill for any problem solver."