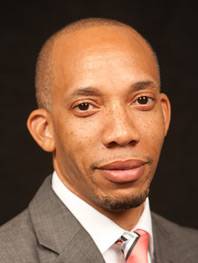 Miami Law professor Charlton Copeland led a panel discussion providing insight into the world of legal academia to aspiring law professors at the 88th Annual National Bar Association (NBA) Conference hosted at the Fountainbleau Hotel in North Miami last week. Focusing primarily on practicing attorneys interested in entering the teaching academy, it is no surprise why the NBA – the nation's oldest and largest association of predominately African-American lawyers and judges – sought Professor Copeland's expertise.
As an experienced professor of seven years who was awarded tenure by the University of Miami on June 1, Professor Copeland has an admirable reputation among students and peers. Along with four fellow panelists, he ensured the crowd of hopefuls that educating students in the craft of law requires more than being a decorated attorney.
Professor Copeland made it a point to emphasize writing and research as critical elements of the job. "If committed to the tenured track line, you have to be committed to writing, and you must take fun in working through ideas and problems…If you don't like reading law review articles, then you certainly won't like writing them."
The flexibility of teaching is another benefit Professor Copeland especially appreciates because it allows him time to work on a few independent projects. He is currently writing an article rebutting the Supreme Court's position that mandating the purchase of health insurance under the Affordable Care Act is coercion. He is also working on a paper addressing the political context of race, federalism, and political party membership in relation to voter oppression following the Supreme Court's holding in Shelby County v. Holder – the highly controversial voter rights case decided earlier this year.
When asked by an audience member to describe an average day in the life of a professor, Professor Copeland divided his routine in two segments – teaching days and non-teaching days. He outlined for the audience that "the bulk of a professor's time is spent in class and preparing for class. "On non-teaching days I prefer to prepare for upcoming classes by going over notes and gaging how the class will flow; on teaching days I advise reserving office hours for students because the material is fresh and you are likely to get the most traffic."
The application process to become a professor in itself is demanding as detailed by Professor Copeland. If interested in becoming a professor, candidates must complete the Faculty Appointments Registry form produced by the American Association of Law Schools (AALS). Law schools then look through the compilation of applications and select who to interview for teaching positions at the annual AALS hiring conference, which Professor Copeland refers to as the "meat market" because of the massive volume of aspiring professors interviewing for teaching positions.
Understanding the current state of law school admissions and employment for students following graduation must also be taken into consideration when treading the path of a professor as some schools have incorporated temporary hiring freezes of new faculty. Nonetheless, Professor Copeland believes by framing teaching through the eyes of an attorney, the path to tenure that he now enjoys makes the goal more attainable.
"Don't buy into the false dichotomy between the legal academy and the real world," Professor Copeland said. "There is not as big of a divide in practicing law and teaching law as we think. Good legal scholars have a desire for getting answers to problems we see in the world just like lawyers."
As a new school year approaches, Professor Copeland will not only enjoy teaching a new batch of students, but he will also sit amongst them. He routinely teaches Civil Procedure and Administrative Law, and this year Professor Copeland is excited to take Bankruptcy Law to expand his already immense understanding of law.