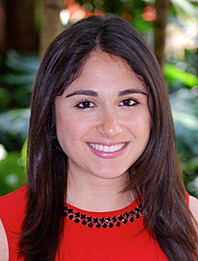 Rising 2L Carrie Cabrera is spending this summer looking for answers to some of immigration laws toughest questions at Catholic Charities Legal Services, Archdiocese of Miami, Inc. (CCLS) – a not-for-profit organization that provides free or low-cost legal immigration services to immigrants and refugees in the community.
"This summer I have been given the opportunity to be given practical lawyering experience at Catholic Charities" and she chose this organization because it focuses solely on the legal issues of immigrants.
Cabrera was able to get this chance thanks to the HOPE Summer Public Interest Fellowship Program – a highly-selective program that places students to work full-time at a public interest agency during the summer, while the students receive academic credit and a $2,500 stipend.
"I decided to apply for the Summer Public Interest Fellowship offered by UM, because before attending law school I worked as a child dependency case manager. During my time as a case manager I saw a need for immigration type legal aid and found that it was very hard to find that help for some of my clients."
Cabrera has spent the summer at CCLS doing research to help clients who are in removal proceedings, and writing briefs and motions to be submitted to the court.
She has also had a lot of client interaction and says she's been most surprised by the consequences of criminal convictions in immigration proceedings. "A lot of clients I have worked with have pleaded guilty to crimes that have barred them from any immigration relief, but at the time of the plea most clients had no understanding of what that meant."
Cabrera goes on to explain that a recent case in the Supreme Court – Padilla v. Kentucky (2010) – addresses this exact issue. "Attorneys have a duty to inform their clients of the immigration consequences of a criminal conviction. This leads me to further question how we can be effective counsel to this population because at the time they come to an immigration attorney, their criminal issues have already been settled and there is not much that can be done on the immigration side."
While working at CCLS has given Cabrera great opportunities to get hands on legal experience, she feels she does not want to practice immigration law in the future. "I feel that my hands are tied when it comes to the help that can be provided to clients. I have many different interests that I would like to look into this coming school year and would like to move forward into a different area of law."
The Tampa native hopes to return to her hometown to practice law after graduation.