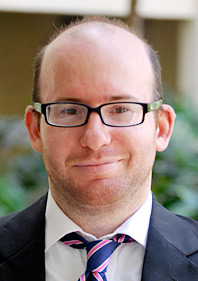 When the phone rings at work, most of us answer with a friendly "Hello." But call Miami Law HOPE Fellow James Slater during business hours this summer, and you may be greeted with "Zdravstvuyte." No, that is not a typo – it is the Russian equivalent for a standard greeting.
Slater, a master of Slavic languages, has put his multi-dialectic tongue to use this summer as an intern in the Bet Tzedek Legal Services Holocaust Reparation Program in Los Angeles, California.
His time out west has not been a stay at Hotel California, but rather time spent helping local area Holocaust survivors recover pension funds (under the Implementation Agreement to the German Unification Treaty) and one-time hardship fund payments, both of which are administered by the Conference on Jewish Material Claims against Germany.
A normal day for Slater may very well include conducting client interviews and consultations in multiple languages, or perhaps drafting letters in Russian that are sent to Ukrainian and Russian government agencies. Research regarding his clients' persecution history further drives Slater to serve the Los Angeles County Holocaust survivors, a third of which live below the poverty line.
"It is so rewarding to help those who have suffered so much in their lives," said Slater. "These pensions and one-time payments help provide some dignity for these survivors late in life. Even though some of these funds only offer a few thousand dollars, even a small amount can help."
Slater has spent nearly a decade priming himself for this brand of Slavic legal services. In 2007, Slater graduated from the University of Florida as a Russian and History major, and then earned a Master's degree in Slavic Languages and Literatures from the University of North Carolina.
Following graduate school, Slater participated in a National Security Education program in Saint-Petersburg, Russia, taking a lead in environmental and human rights projects affecting Northwest Russia.
Immediately prior to interning with Bet Tzedek Legal Services, Slater spent two summers as resident director for the State Department's Critical Language Scholarship Program in Kazan, Russia.
Following the conclusion of his internship, Slater looks forward to another year at Miami Law where he will continue to expand both his legal and language skills.