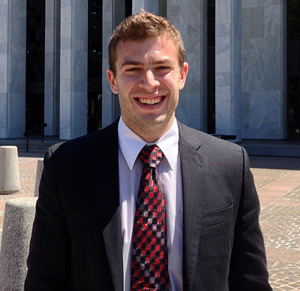 Miami native Leo Lichtman is doing his best to combine his love of music with his love of the law. A musician his entire life, Lichtman says he chose to go to law school so he could help other musicians. "I knew going into law school that I wanted to one day represent musicians by ensuring that they are able to make their living off of their works."
This summer, the rising 3L is working at the most important agency for creating, promoting and disseminating American works of authorship throughout the world: The U.S. Copyright Office. The U.S. Copyright Office, which is part of the Library of Congress, handles copyright registration, recording of copyright transfers, and other administrative aspects of copyright law. As a law clerk in the Office of the General Counsel, Lichtman has helped with doing research for reports to Congress, assisting in rule-making, and following current copyright cases that could affect copyright policy.
Lichtman admits that when he first started at the agency, the work was completely new to him, but credits his past two years at Miami Law for giving him the tools to succeed. "I was able to get over a steep learning curve at the beginning thanks to the legal research and writing skills that I have gained at Miami Law."
And thanks to the HOPE Summer Fellows Program, Lichtman has been able to work at the agency unpaid. "HOPE made this the most interesting and invaluable summer possible."
One of the most important items Lichtman has worked on this summer is a report on small copyright claims, which Congress asked the Copyright Office to study. As Lichtman explains, "Many copyright owners have been unable to bring their claims where the promise of recovery is only modest, because the high cost of litigation does not justify bringing such a claim. As a result, the infringement continues and the copyright owner is out of luck." His report will address several of these issues as well as furnish specific recommendations ensuring that all copyright owners can exercise their exclusive rights over their respective works.
In addition to reflecting on his own experiences this summer, Lichtman says this is an extremely interesting time to be working at the Copyright Office. "The Internet has revolutionized how we communicate and consume content, but as content has become easier to access and more widespread, it has also posed many new challenges for artists, authors, musicians, and others that make their living from their work, and it has become clear that the copyright law has to be updated to ensure that these people still maintain incentives to create." Currently, Congress is beginning to consider making the first major revisions to the Copyright Act since 1998.
With one year to go at law school, Litchman says he'll never give up his passion for music. "I have been passionate about music most of my life, and have a strong interest in areas where the content industries, technology, and law and policy intersect."