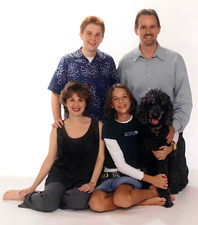 Miami Law alumna Judy Hyman loved the law almost as much as she loved her family. She passed away in 2010 after a long battle with cancer at the age of 52. Her husband, Judge Paul Hyman, and children – Zachary and Kaylee, JD '12, and her parents, Theresa and Theodore Fried, recently created a scholarship in her memory at Miami Law to be awarded to a student who is interested in becoming a litigator.
"We decided to establish this scholarship in order to honor Judy's memory in a lasting and meaningful way by furthering her passion for helping the underprivileged and disadvantaged," said Judge Hyman, who is the Chief Judge for the United States Bankruptcy Court for the Southern District of Florida.
From a very young age, Judy wanted to be a lawyer. "She was always very good at tenaciously arguing her position," her parents observed.
With that goal in mind, she attended the University of Vermont from 1975 to 1979, where she graduated with a degree in Philosophy. She then attended Miami Law, where she graduated in 1982. "She loved the Socratic Method that is frequently used in law school courses, and she especially enjoyed Professor Clifford Alloway's evidence course," said Judge Hyman.
Judy was able to develop her litigation skills at the Colorado Public Defender's Office from 1983 through 1993. She moved back to South Florida with her family in 1993, where she taught litigation skills at St. Thomas University School of Law and worked with several prominent litigation firms and attorneys in the West Palm Beach area, including Robert Montgomery and Jim Beasley.
The Judy Fried Hyman Scholarship Fund will assist students with financial need with preference given to a female student who wants to be a public defender.
"We hope that it will help enable students to pursue a career in litigation that they might not otherwise be able to pursue because of financial constraints," said Judge Hyman.