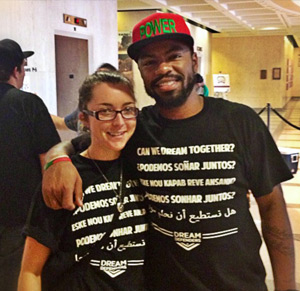 When George Zimmerman was acquitted on July 13, 2013 of second-degree murder in the fatal shooting of Trayvon Martin, the Dream Defenders – a multiracial organization of youth and students – immediately went into action. The organization was formed shortly after Trayvon Martin, a 17-year old high school student from Miami Gardens, was shot and killed by George Zimmerman in Sanford, Florida in February 2012. Since then, the Dream Defenders have formed chapters at colleges around the state.
Until last week, the Dream Defenders were sleeping for thirty days in the state capitol, right outside Governor Rick Scott's office, demanding that he call a special legislative session to consider a series of policy proposals called the Trayvon Martin Civil Rights Act. In the middle of the hundreds who participated in these sit-ins was Miami Law 3L Leah Weston.
Weston called what took place in Tallahassee nothing short of inspiring. "Each day was carefully planned by a committee of organizers, who set up their base in the offices of the Democratic Party ... Many high-profile people came to join the campaign in the Governor's office, including musician and activist Harry Belefonte, rapper Talib Kweli, and civil rights leader and former NAACP chair Julian Bond."
Weston, who at Miami Law is both a Harvey Reid Scholar and Miami Scholar, says she took part in this event as part of her work this summer with the Community Justice Project of Florida Legal Services, a non-profit public interest law firm based in Miami. "The CJP embraces the philosophy of 'movement lawyering' – representing grassroots community organizations in their struggle for equality and social justice." Weston worked with the CJP and the Advancement Project to draft the Trayvon Martin Civil Rights Act.
And while Florida Governor Rick Scott was nowhere to be found during the recent sit-ins, the Dream Defenders hosted their own series of hearings that they called "The Peoples Sessions." As Weston explains, the sessions focused on difficult topics around racial issues. "When I went, the topic of discussion was racial profiling. Young people shared their experiences of being unfairly targeted by law enforcement, just because of their perceived race/ethnicity." Following the open discussion, a series of experts would testify, included representatives from the ACLU and law professors from around the country.
While the sit-ins are over for now, The Dream Defenders plan to continue for Trayvon's Law. And as for Weston, she intends to pursue a public interest career after graduating next May, providing civil legal assistance to low-income communities. "I am committed to doing this kind of work because I believe that true social change comes through grassroots community movements, of which lawyers are only a small part."
Weston says that for the Dream Defenders, Trayvon Martin was not an isolated event. "It was a rallying point for youth of color who feel they are unfairly criminalized every single day by racist laws and law enforcement practices."