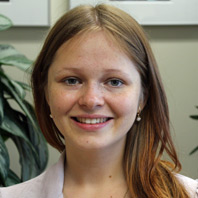 The International Graduate Law Programs' 2013 Visiting Assistant Professor will be Kristina Klykova, a Ukrainian student at Miami Law who is about to receive her Master of Laws degree in International Law with a specialization in international arbitration. She is a 2010 graduate of Odessa National Academy of Law in Ukraine.
This fall, she will be teaching a new course on the European Union and NAFTA that will cover commercial relations between the U.S. and the European Union as well as Canada and Mexico. "This is an important and timely course to any student interested in the field of international trade law," said Caroline Bradley, Chair of the International LL.M. Program at Miami Law and professor of International Finance Law and European Union Law.
Klykova, a Fulbright scholar, has a background in international trade law. She earned a Master of International Law and Economics degree from the World Trade Institute in Berne, Switzerland, and participated in an International Trade Moot Competition in the same city. She also won an academic speech competition on World Trade Organization issues in Odessa, Ukraine. Klykova is writing a doctoral thesis on alternative dispute resolution and is collaborating with adjunct professor John H. Rooney on an investment arbitration article that is to be published in Brazil. Klykova is certified in mediation by the American Bar Association and is fluent in Russian, Ukrainian and English; she also speaks German. In Miami, Klykova assisted the international firm Hogan Lovells in researching the treatment of domestic and international arbitral awards in Florida to show the extent to which Miami is a favorable seat for arbitration.
"One of the reasons that I really wanted to come to Miami Law was the unique opportunity to teach," said Klykova. "When I found out about the VAP program, I wanted to develop a course that really benefited the university by opening the door to educate lawyers who may specialize in this field as well as help promote UM in a new area. I also wanted to help law students connect their careers with the world trading system and share with them the skills I learned."
According to Klykova, there are few academic programs in the world offering in-depth looks at international trade law, and when she heard about the VAP program, she sought the advice of several faculty members, including Professor Markus Wagner and the highest-ranked international trade lawyer in the world, Gary Horlick. A professor of international trade law at the World Trade Institute, Horlick was Klykova's mentor there.
"It was important to me to get feedback from professor Horlick, as he is so recognized and knowledgeable in this field," Klykova said. "With the help of my professors and mentors, I found that there was an opportunity to expand the University's offering in an important area of the law."
According to Jessica Carvalho Morris, Director of the International Graduate Law Programs, Klykova will not only teach but will be working closely with Professor Jan Paulsson as well as with other LL.M. students on an international arbitration research project that will be published at the 2014 ICCA Conference. Klykova is also involved in the preparation of UM students' essays for publications and distribution.
"We are particularly excited about Klykova, who was selected from the International Arbitration LL.M. and will be a close ally of the program," Morris said.
The Office of International Graduate Law Programs implemented the Visiting Assistant Professor program in 2008. The VAP allows for one LL.M. student to be selected, following the completion of his or her degree, for a one-year term. The first VAP was German lawyer Sandra Friedrich, who graduated with a J.D. summa cum laude in 2008. Friedrich, who speaks six languages, taught a course called Introduction to German Law and European Union Law. She is writing her doctoral thesis on international arbitration while she works as an associate at the New York firm Latham Watkins. In 2009, the choice was Colombian lawyer Paula Arias, who graduated in 2009, taught Dispute Resolution in Latin America and Human Rights in Times of War and now directs Miami Law's International Moot Court Program.
In 2010, Icelandic lawyer Helga Kristin Audunsdottir, LL.M. '10, who graduated top of her class, taught European Competition Law and European Company Law. She is the Head of the Department of Law at Bifröst University in Iceland's capital, Reykjavik. In 2011, Cuban lawyer Joan Martinez Evora, who graduated with a J.D. magna cum laude in 2011, won the Eric E. Bergsten Prize as Third Best Oralist in the 2010 "MootMadrid" and served as a Senior Public Consultant in Florida's Department of Children and Families. He taught Practical Approaches to Contracts in Spanish and International Family Law and is a lecturer at UM's School of Business. For the 2012-2013 academic year, it was the turn of German lawyer Stefanie Kürpick, LL.M. '12, who taught Cybercrime Law last fall and is now teaching Animal Law. Kürpick interned at the Public Defender's Office in Miami and, before studying at Miami Law, worked at Schwankl, Mankartz & Kürpick in Dorsten, Germany.
"The VAP program has been a success and has served to supplement the law school's international and comparative law offerings," said Morris.
For more information about the Visiting Assistant Professor program, contact the Office of International Graduate Law Programs by phone at 305-284-5402, via e-mail at intl-llm@law.miami.edu or on the web at www.law.miami.edu/iglp.