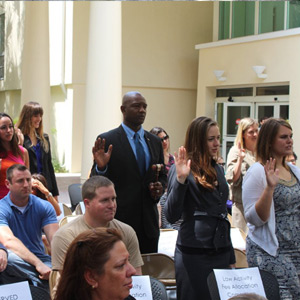 At the Passing of the Gavel earlier this month, members of the Miami Law community were recognized by the Society of Bar and Gavel for outstanding leadership and dedication to good will and service. In his remarks, Brian Stewart, the outgoing President of Bar and Gavel, celebrated the accomplishments of outgoing student leaders who are leaving "what we have worked to build in the capable hands of those who accept these gavels and all of their requisite duties." He said that Miami Law students "have used the opportunities presented here to build up this institution, build up our community, and effectuate change throughout the country and throughout the world."
The following are excerpts from Stewart's remarks, followed by those of Erin Lewis, the retiring Vice-President of Bar and Gavel:
"Having served on a number of executive boards during my time at Miami Law, I know that it is a lot of work and a lot of responsibility, and often that work is its own reward. But through our roles as student leaders, we also have perhaps the most important thing you can have in this world: opportunity...
If you would like to see just what kind of impact you can make, you need look no further than our alumni, which is why we begin our awards presentation today by giving out our Alumni Leadership Award. The Alumni Leadership Award recognizes alumni whose professional achievements and service to the community exemplify the four ideals of the Society of Bar and Gavel: service, leadership, character, and attitude. Each and every one of this year's nominees are an inspiration for what we might hope to accomplish as we move forward in our careers:
Devang Desai, President of the UM Law Alumni Association and one of Florida's Super Lawyers. He is exceptionally active in growing and promoting the University of Miami and UM Law, as well as the Boy Scouts of America and his fraternity, Pi Kappa Alpha.
D. Porpoise Evans, a shareholder at Greenburg Traurig and another one of Florida'sSuper Lawyers, who gives back through his work with UM Law, Legal Services of Greater Miami, Big Brothers Big Sisters, and various other organizations.
Judge Robin Rosenbaum, who was recently appointed to the U.S. District Court for the Southern District of Florida. Upon her nomination, President Obama stated what almost anyone in the South Florida legal community already knew, that she has "displayed unwavering commitment to justice and integrity."
Elizabeth Schwartz is the President of the Miami Beach Bar Association and one of Miami's premiere advocates on behalf of the LGBT community. Her advocacy is matched only by her philanthropy, and her work on various Boards throughout the community helps make South Florida a better place for all of us.
Evian White, a staff attorney at Legal Services of Greater Miami who has used her J.D. from UM Law to help those in need and teach others to do the same through her work at the Tenants' Rights Clinic, the Housing Assistance Network of Dade, the Dade County Bar Association Young Lawyers Section, and more.
And the 2013 recipient of the Alumni Leadership Award is Devang Desai.
Our next award is the Hausler Golden Apple Award... to the faculty member contributing the most to the student body both academically and through his or her extracurricular activities. This award honors Richard A. Hausler, a beloved professor for 52 years at Miami Law who inspired legions of students to achieve the highest level of excellence.
Professor Anthony Alfieri, who not only challenges students in the classroom, but challenges them to improve the lives of others through his efforts in the Center for Ethics and Public Service and the Historic Black Church Project.
Professor Ricardo Bascuas, who challenges his students to think critically about the law and articulate their thoughts clearly not only in the classroom, but through his work helping indigent criminal defendants through the Federal Appellate Clinic.
Professor Charlton Copeland, one of the most respected and admired professors on campus for his helpful and approachable manner. In addition to providing guidance and encouragement to his students, Professor Copeland was a featured performer in the staged reading of "8" at UM earlier this year and organized and taught a Florida Bar Essay Writing Workshop for 3Ls.
Professor Andrew Dawson, who makes complex and challenging topics achievable by creating an academic environment where students feel respected and are encouraged to engage in genuine conversations with the professor and each other.
Professor Marc Fajer, a much beloved professor here at the school for the extraordinary efforts he puts forth in giving his students all the tools they need to succeed. He serves as a faculty advisor for OUTLaw and Equity Playhouse, puts on an annual 1L Exam workshop, and earlier this year brought the play "8" to the University of Miami as Director.
Professor Mary Anne Franks, who has devoted her studies and dedicated her work to fighting discrimination, promoting equality, and serving social justice. She is a constant fixture on panels and conferences for her expertise, yet she takes the time with all of her students to help them with just about anything they need.
Professor Stephen Urice, whose passion for his work is matched perhaps only by his compassion for his students. He treats all of his students as individuals and learns his students' backgrounds and ambitions so he can not only help them in their education, but help them pursue their dreams.
I am exceptionally proud to give the 2013 Hausler Golden Apple Award to Professor Marc Fajer.
To hand out the Guillermo Padron Staff Service Award and Roger Sorino award, I am going to hand the mike over to Erin Lewis, the Vice-President of Bar and Gavel. Erin has not only been a phenomenal asset to Bar and Gavel, but to the University of Miami. A double Cane, she has demonstrated her leadership and service through her role as Senior Articles Editor of the Race and Social justice Law Review, as a fellow in the Human Rights Clinic, as President of the Student Organization for Human Rights, as an intern with LSGMI, and through her work with Big Brothers Big Sisters. It should be noted that Erin was nominated for the Roger Sorino award for her contributions to the school and the community, but she recused herself from consideration due to her role on the Executive Board of Bar & Gavel."
Erin Lewis's remarks:
"I am honored to announce the nominees and winners of the Guillermo Padron Staff Service Award and the Roger Sorino Award. The Guillermo Padron Staff Service Award recognizes non-professor staff members whose interactions with the students and community at large exemplify the ideal of service to others and the community. Guillermo Padron was a cheerful fixture at the law school for over 15 years and he was always happy to serve the school. He passed away in 2011 after battling cancer for two years. This year's nominees have each greatly impacted students and we are very fortunate to have them here at UM Law:
Sophie Darling works in the Dean of Students Office. Not only will Sophie help you with absolutely anything you need, but she treats people with kindness, respect, and appreciation. She genuinely cares about the students and the people at this school and in the community. It is especially nice to have someone at UM Law who always greets you with a smile and generally bids you farewell with a hug.
Mercy Hernandez has been consistently helpful and supportive to students in her capacity as a staff member in the copy center. Mercy always seems to have a positive, cheery attitude and welcomes students. She makes students feel like she was there to help them with anything, regardless of whether she has met them before or not. Mercy has gone out of her way to provide assistance, above and beyond what her job entails.
In her capacity as Student Service Fellow and friend, Emily Horowitz is always cheerful and no matter how busy she is she will put it all on hold to help out a student or give advice. She's eager and willing to give a helping hand however she can. It is evident that she is happy to be here at the law school every day and give back to the community.
Cindy McKenzie is the Program Manager for the Center for Ethics and Public Service. She is one of the kindest and most helpful employees at UM. Cindy is so efficient, competent, and kind all at the same time. Cindy is always willing to assist students and provides valuable insight to all those who have the pleasure of interacting with her.
Shakira Valle works in the Office of Student Recruiting and is one of the first faces that prospective students see. Shakira is one of the most positive, supportive, and caring people at the law school. She has a great attitude and works long hours to make our recruiting events successful. Her enthusiasm is amazing, and as one of her nominators said, "if you are wondering who Shakira is, she is the person smiling the biggest."
As the Dean for Professional Development, Dean VanderWyden is a wealth of information from applying to the bar to graduation requirements, to basically any other concern a student might present. We all know that Dean V. is extremely approachable, helpful, and dedicated to making the student experience easier in any way he can.
Trying to choose a single person for this award was not just difficult — it was impossible. So, for the first time ever are pleased to announce that there are two winners for the 2013 Guillermo Padron Award. The winners are: Shakira Valle and Sophie Darling.
The Roger Sorino Award is given to a graduating law student who best exemplifies leadership, dedication to the school, and service to the community. This award is dedicated in memory of Roger Sorino, a highly involved UM Law student who died suddenly in 1951. He served as President of the Society of Bar and Gavel for two terms and he had a tremendous impact on our law school community.
This year's nominees for the Roger Sorino Award are:
Christine Job is highly involved at UM Law and is a fixture at most law school events. As SBA President, her dedication to the school is evident. As a leader, she has been able to effectively collaborate with others to come to up with solutions to improve each student's law school experience.
Catherine Kaiman is one of the most involved students on campus and her activities revolve around social justice and helping those less fortunate. Cady is the President and Co-Founder of Law Students for Reproductive Justice, she was in the Children and Youth Law Clinic, and she is currently the Editor and Chief of the Race and Social Justice Law Review. She is a pleasure to work with and be around. She is hard-working, helpful, and giving in the service of others.
Estefania Nasielski is one of the most committed, dependable members of the Miami Law community. With Estefania, there is no such thing as "sub-par." She is prompt, professional, and diligent in her schoolwork, her extra-curricular activities, and her time-management. She is the President of the Honor Council, and the President of the Florida Bar Law Student Division.
Liana Nealon is a real-life superwoman who is famous for her positive attitude. She commits herself to so many activities, both in the school and in the community, and carries each commitment off with power and grace. Her leadership positions include Executive Vice President of Moot Court and Director of Equity Playhouse, and she is a member of countless organizations, including Outlaw and Miami Law Women. She approaches every activity with enthusiasm and relentless dedication.
Luis Ramos has worked tirelessly during his law school career for the public interest. He is passionate about giving legal access to those who are disenfranchised and is pursuing a Masters in Public Administration to assist him in his goals of making change through a government position. At the law school, Luis was a fellow in the Human Rights Clinic, co-founded Law Students for Reproductive Justice, and worked for Americans for Immigrant Justice and the ACLU. Luis is an outstanding, humble individual, colleague, and a wonderful friend.
Toam Rubinstein is one of the most dedicated and passionate members of our law school community. She has shown creativity and initiative in her leadership roles on campus, including organizing the very successful Philanthropy Week and chairing the Class Gift Committee. Whenever there is a service event occurring, you can be sure to find her smiling face and friendly attitude there. She is always someone who can be consistently counted on to lead and inspire others to participate.
Brian Stewart was also nominated for this award. He took himself out of the running, as is the tradition of Bar and Gavel presidents. Nonetheless, his tireless leadership and dedication to the school and the community should be recognized. Brian leads with an unmatched sense of humor and creativity and can always be depended on to get the job done by going above and beyond. He is the President of Bar and Gavel, a member of the Miami Law Review's Executive Board, and a writer for Equity Playhouse, among many other formal and informal leadership roles on campus. Brian has also dedicated himself to public service through his work in UM's Children and Youth Law Clinic and the Children's Advocacy Unit of Legal Aid of Broward.
It is with great pleasure that I now announce the winner of the 2013 Roger Sorino Award. The winner is: Liana Nealon.
Thank you and congratulations to all of our winners and all of our nominees."