At the law camp's opening session, from left, STREET Law Assistant Mary Cano; law students J.C. Zamora, Rody Tadenev, Amir Whitaker and Aaron Ahlzadeh; and Karen Throckmorton, the program's director. (Photo: Catharine Skipp/Miami Law)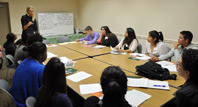 In a classroom at Miami Law last week, second-year law student Whitney Kouvaris became the teacher, methodically instructing a group of high-school students on how best to assemble a legal case, set for mock trial later in the week, from the perspectives of both prosecution and defense.
"How can we use that for the state?" she asked pointedly when a fact in the case came up. "Who can tell us what actually happened?"
As several of the high-school students blurted out answers at once, Kouvaris interjected: "All right! One at a time!"
The students' eagerness was understandable. They were getting a rare chance to practice for a pair of hypothetical trials in the federal courthouse in downtown Miami before real members of the judiciary, one before U.S. District Court Judge Paul C. Huck and the other before his colleague Judge Patrick A. White.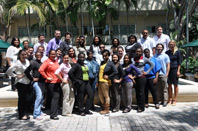 Earlier, at the outset of the law camp, Karen Throckmorton, Director of the Miami STREET Law Program, laid out what the three days of preparation and trials were to entail. She said they would be coached by so-called Street Lawyers – law students like Kouvaris, Rody Tadenev, Aaron Ahlzadeh, Daniel Butler, Zak Colangelo, Brett Holland, Matt James, Casaundra Johnson, Sam Karl, Eryca Schiffman, Genna Selesnick, Denise Robinson, Laura Burgess and J.C. Zamora – to try a murder case in which the defendant has invoked the Florida "Stand your Ground" statute. The victim was a teenager, shot by a homeowner in Coral Gables on Halloween last year after the youth had knocked on his door.
The high-school students – from Liberty City, Coral Gables, Little Haiti, Hialeah and Little Havana – were also treated to a discussion titled "Anatomy of a Trial," led by Professor Terence Anderson, and to a series of presentations called "The Path to Law School and its Benefits," from Marcy Cox, Director of Miami Law's Career Development Office; Rick del Rosario, Assistant Director of Student Recruiting; and Megan Stamm, Assistant Director of Undergraduate Admissions, a session designed for those who might be thinking about legal careers.
"All killings are not created equal, and according to Florida law, some killings are excusable," Tadenev wrote in a briefing paper for the students in which he referred to the notorious killing of Trayvon Martin last year. "We will explore the elements of three different degrees of homicide – first-degree murder, second-degree murder, and manslaughter – and how self-defense applies to these crimes." Critics of the "Stand Your Ground" law, he said, maintain that it "allows for too much vigilantism and unnecessary killing."
The educational trial program for teenagers is being undertaken in honor of an elementary school teacher, Barbara Dubé, who taught in the gifted program at Howard Drive Elementary School for more than a decade, and Peter R. Palermo, a federal magistrate judge for the U.S. District Court for the Southern District of Florida who graduated from Miami Law in 1950.
Barbara Dubé was the wife of Senior U.S. Magistrate Robert Dubé. Judges Palermo and Dubé have been involved in the mock trial sessions since their inception in 2007. "Judge Palermo has been the heart of the program, meeting each year with the students and opening the courthouse and his chambers to them," Throckmorton said, adding that he is not involved this year only because he was scheduled for eye surgery.