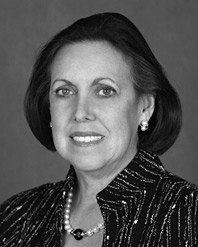 ​Georgie Angones, Assistant Dean for Alumni Relations and Development at Miami Law, has been elected chair of MCCJ – historically known as the Miami Coalition of Christian and Jews – a nonprofit organization dedicated to eliminating intolerance.
"We engage and reach out to community leaders in an effort to recognize the diversity that exists in our South Florida community, embrace it and become truly inclusive," said Angones, a long-time board member of the MCCJ. "My goal for this year of leadership is to continue their efforts and reach out to the next generation, one young leader at a time."
A graduate of the University of Miami, Angones has served on the Judicial Nominating Committee for the Third District Court of Appeal and the District Court of the Southern District of Florida as well as the Naval Academy Selection Committee. Prior board memberships also include the Miami Children's Hospital, Bay Point Schools, the Archdiocese of Miami Vision 2000 and the Board of Trustees of St. John Viennay College Seminary. She chaired the Miami-Dade County Library Board and is a sustainer in the Junior League of Miami. Angones has also served on the ABA's Council for Racial and Ethnic Diversity in the Educational Pipeline. She and her husband, Frank are Eucharistic Ministers at Epiphany Catholic Church in South Miami where she taught CCD as a volunteer for many years.
She is a recipient of the Florida Immigrant Advocacy Center's Arthur Helton Humanitarian Award and the Junior League's Women Who Make a Difference Award in recognition of her community leadership. Angones is a member of the prestigious Iron Arrow Honor Society and Omicron Delta Kappa Honor Society at the University of Miami, and was awarded the 1991 "Inside Out" Outstanding Service Award by the University of Miami Alumni Association. Her work on behalf of the law school is crucial to its future and that of its students.
Established in 1935, the Miami Coalition of Christian and Jews is a nonsectarian organization that seeks to advance understanding and respect among people of all cultures, religions and races. It creates safe havens for dialogue, trains inclusive leaders, highlights the benefits of diversity, and builds trust among different communities.