Horacio Gutiérrez, JD '98, addresses Lawyer of the Americas dinner audience. (Photo: Nick Madigan/Miami Law)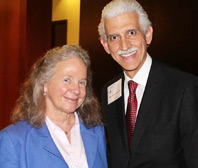 Standing in a banquet hall full of colleagues, friends, relatives and admirers, Miami Law alumnus Horacio Gutiérrez, deputy general counsel at the Microsoft Corporation, pointedly gave credit to his alma mater for his ascendance to the loftiest rungs of corporate law. Had it not been for the knowledge and opportunities the law school made available to him, he said, "I would not have had the career I've had."
Gutiérrez, a native of Venezuela who graduated summa cum laude from Miami Law in 1998, spoke at a Brickell Avenue hotel moments after being named the 2013 Lawyer of the Americas by editors of the school's Inter-American Law Review, which published one of Gutiérrez's first legal articles when he was a student. After briefly summarizing his career since his graduation, including a stint working in Paris and frequent trips around Europe, Africa and Asia, Gutiérrez noted that the human rights Americans take for granted "do not exist" in many parts of the world. Lawyers, he said, must challenge themselves to promote the civil rights of immigrants, the racially oppressed, gays, and other marginalized populations. "The lives of people depend on these freedoms being guaranteed," he said. "The rule of law is not just an abstraction." Threats to civil rights "do not just exist south of the border," he went on. "They exist here today."
As Gutiérrez spoke, a sputtering fire alarm – the result, as it turned out, of some smoke in the hotel's garage – threatened to overshadow his extemporaneous remarks. After ignoring the noise for a while, he smiled and said, "It seems to me there are some political elements trying to subvert my speech."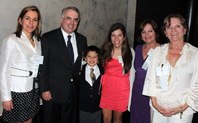 Concluding his address, Gutiérrez thanked everyone around him. "If it weren't for you, my fellow professionals and my family," he said, "none of my successes would have meant anything."
His audience of nearly 120 people included prominent figures in Miami's legal community and members of Miami Law's student body and faculty, among them Dean Patricia D. White and Professor Keith S. Rosenn, a Lawyer of the Americas honoree in 1989, who welcomed everyone to the dinner. Other former holders of the title who attended the event included Jose I. Astigarraga, J.D. '78 (2005); Frank Angones, J.D. '76 (2000); Burton A. Landy, J.D. '52 (1984); and Salvador J. Juncadella, a University of Havana law school graduate who won the Lawyer of the Americas honor in 1998 and who addressed the crowd at the Gutiérrez event. Juncadella urged him to continue being "an example for the young lawyers and the community in general."
Earlier in the day, Gutiérrez shared some thoughts at the law school with students, faculty members and the dean, and spent a little time with his former mentor, Jeannette Hausler, Dean of Students Emerita. Walking into the Faculty Meeting Room to talk about intellectual property law with Professor Andres Sawicki, Lecturer in Law Terri Doud and a select group of students, Gutiérrez stopped and said, "I haven't been in this room in 15 years – I associate it with exams."
After noting that patents "have become really important" in the business world, even to the point of becoming a sort of currency that can be traded, Gutiérrez said that, "for the free world trade to exist, you need I.P." because it "has become an essential facet of world trade." He said he files 7,000 patent applications around the world every year.
Asked by student John Eagan about Microsoft's role in the highly competitive smartphone market, and the use of litigation between the various competitors to settle patent disputes, Gutiérrez said, "We sue when we have to, when we have no choice, but we'd rather do business with people." Sometimes, a settlement can come down to something like, "Give me a couple of bucks per unit and we'll call it a day." It's useful to bear in mind, he went on, that there are "many creative ways of using I.P. other than just excluding."
Another student, Nicole Pita, said she was interested in pursuing intellectual property issues and seized the opportunity to plug her talent. "I would love to work for Microsoft," she said. With a laugh, though kindly, Gutiérrez replied, "It's a little early."
In addition to Pita and Eagan, the students invited to hear Gutiérrez's views were José Vasquez, Amanda LeCheminant, Rico Williams, Candice Lazar, Michelle Carter, Sam Sheedban, Alexandra Marban, Trisha Ojea and Bruno de Camargo.
At the Lawyer of the Americas dinner, awards were also presented to editors of the Inter-American Law Review: Eric S. Boos won the Lillian R. Levy Award; Daniel McDermott, the Grey Quill Award; Elizabeth Ann Briggs, Most Outstanding Articles and Comments Editor; and Lauren Marsicano, Most Outstanding 3L Member. Other members of the review's executive board were also honored, including Angelica Boutwell, William Breslin, Annabelle Torgman, Summer Niemeier, William Egan, Clark Cooper, Courtney Karnes, Christopher Kuleba, Stephanie Stein and Kathryn Walker.