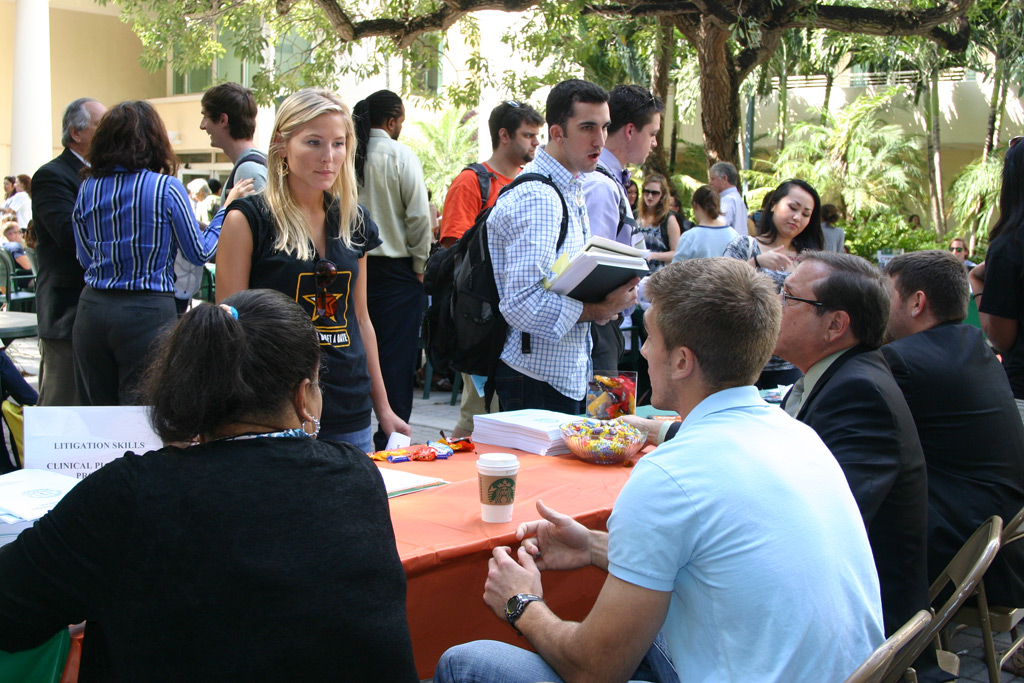 Students at the Public Interest Fair on the Bricks at Miami Law. (Photo: Patricia Moya/Miami Law)
Miami Law hosted a Public Interest Fair on Monday for students interested in public interest and experiential learning opportunities. The event, which featured students and faculty from Miami Law's clinics, the HOPE Public Interest Resource Center, the Center for Ethics and Public Service, STREET LAW, Legal Corps, and the Externship Program, was held on the Bricks at midday.
Law students took advantage of the chance to talk about the critically needed work being performed in each clinic and program. During the fair, Miami scholar Tricia Robinson shared her experience in Namibia with students who hope to create their own fellowships this summer. Additionally, HOPE fellow Sam Leroy spoke about his time at the Guardian Ad Litem program last summer.
First-year student Caitlin Wilcox attended the fair to see what summer opportunities might be available. "I'm interested in externships and I wanted to know when I should apply," she said.
Brendan Corrigan, another 1L student, was especially pleased to see all the programs and clinics together in one place. "I came to garner information, specifically for opportunities this summer," he said. "It's nice to have this compilation of information."
"Miami Law is home to exceptional clinics and unique programs in the public interest," said Marni B. Lennon, Assistant Dean for Public Interest and Pro Bono. "From client intake to research and writing, hearings and trials, Miami law students are engaged in top notch advocacy."
In the HOPE program, for instance, Lennon said "students have the opportunity to translate their passion for advocacy into action across the globe."
Applications for the clinics and programs can be accessed online at the following links, with students' passwords:
Center for Ethics and Public Service
Public Interest Law Summer Fellowship
HOPE Fellowship
Clinics
Learn more about public interest and experiential learning opportunities and summer public interest opportunites.
Click here to view photos of this event on Miami Law's official Flickr account.