The office of Educational Technology Integration at Miami Law offers a variety of online DIY resources that are intended to assist faculty who are interested in teaching online. In this section, you'll find a variety of resources that will help you think through the overall design of your online course.
A well-designed online course will not only benefit students but will help make the experience of teaching more enjoyable for the instructor. Those who are new to teaching online are often surprised by the challenges presented by this new modality. Many factors influence the time that is required to develop an online course, including the maturity of the course materials and assignments, the types of instructional activities, and the faculty member's knowledge of online environments and tools.
Prepare
Every course is a journey on a specific topic or subject area. As such, the quality of a course depends greatly on the degree to which the instructor plans and considers the journey ahead of time. For instance, what are the goals of my class? What understanding or skills should my students come away with by the end? The resources found here are intended to provide you with guidance on answering these questions as well as setting you up with a workflow for developing online content in the following section.
Getting Prepared Checklist
One of the most difficult aspects of designing online courses can be knowing where to begin. This easy-to-use checklist is designed to provide you with the important considerations that should be made before you begin the process of building the online environment, including links to set you started with the required technologies.
---
A Visual Workflow for Getting Prepared
This workflow illustrates the entire process of developing an online course from beginning to end--presenting a visual roadmap of the various stages involved in creating an engaging online learning environment. Use this resource as a guide that can help you progress each step of the way along the planning, building, and publishing stages.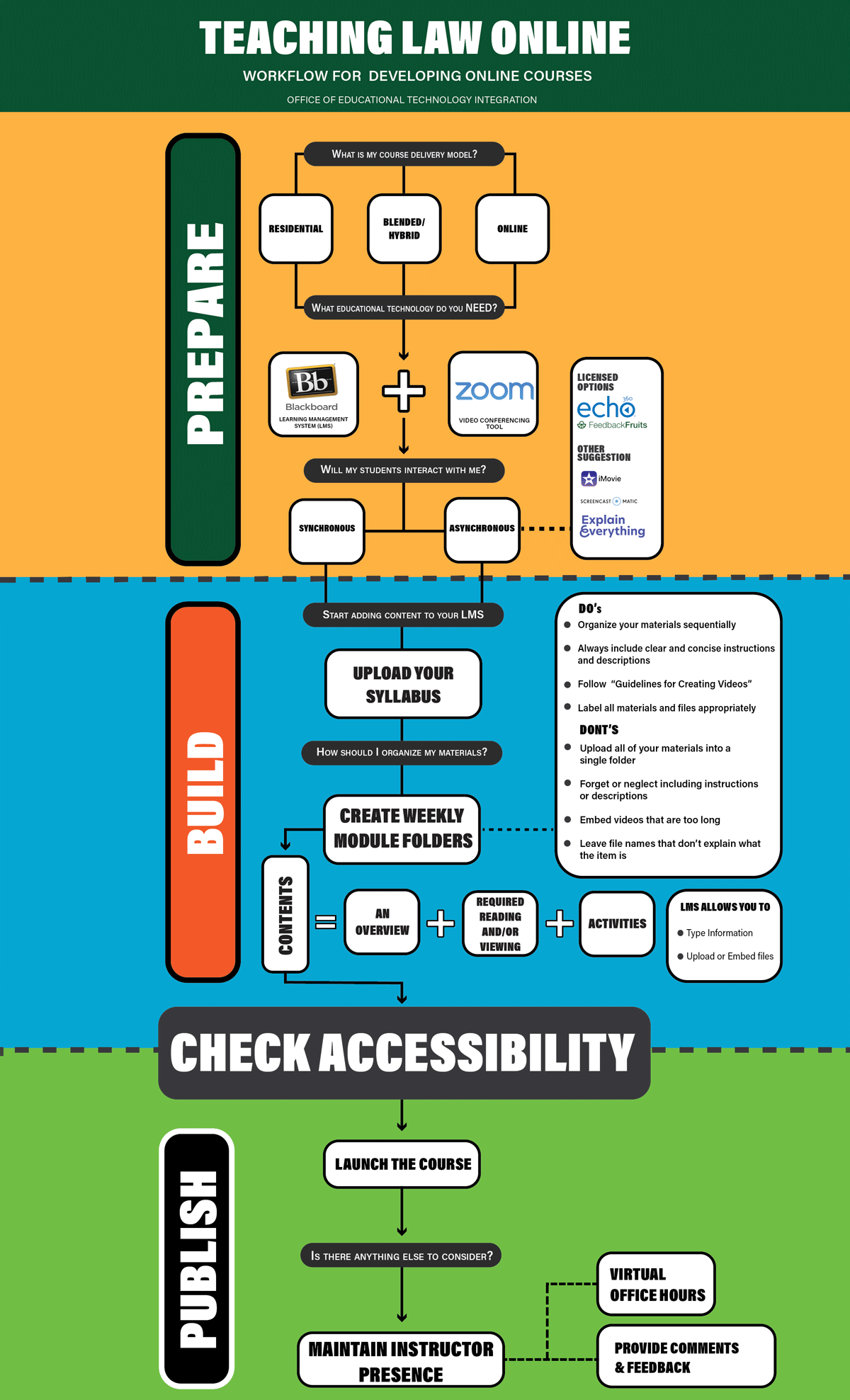 ---
Which Teaching Model is Right for Me?
Synchronous vs Asynchronous Delivery
A key consideration for online course development is deciding the mode of delivery for the course content: How do you want your students to interact and engage with you, their classmates, and the course materials?
Course content can include items such as lecture materials, readings, and assignments. Before moving onto the BUILD phase, you should identify a mode of delivery that's best suited for your class:
Synchronous meaning students interact with the materials in real-time as they would in a physical classroom.
Asynchronous meaning students interact with the materials at a time/place of their choosing within the timelines expressed in your syllabus.
An online course can consist entirely of one mode of delivery or a combination of the two depending on the content that is being delivered. Use this interactive comparison chart as you continue planning to help you decide.
---
Build
Perhaps the toughest part of creating an online course is building all of the content. The real distinction between an online class environment and that of a traditional face-to-face setting is the removal of the constraints of place and time. Understand that students will invariably access an online environment at random times and on their own. As a result, the environment needs to be set up to support student learning that will take place independent of the instructor, essentially integrating their teachings with the environment. This section contains helpful resources for creating all of your online course content and materials.
Course Syllabus Template
A comprehensive course syllabus sets expectations for students regarding important policies and requirements for the class. It can also serve to set a tone for the course by providing a foundation for students to be successful. All faculty members at the School of Law should develop a course syllabus to inform students of important course and University information. The particular format and content of the syllabi should be tailored by the instructor to meet their preference while recognizing student needs and institutional standards.
This template is intended to provide a point of reference and best practices to faculty as they develop the syllabus for any of their courses each semester.
---
S.M.A.R.T. Course Design
Building an online learning environment relies on much more than just adding content, like Word documents or PDFs. As is the case with the pedagogical design of a physical classroom, online environments rely heavily on the organization, structure, and design of both the materials and interface in order to facilitate student learning. This interactive tool will guide you through the process of creating S.M.A.R.T. online learning environments that can successfully engage students.
---
The Rules of Webcams
Whether you plan on delivering video-based content to students synchronously or asynchronously, you will most likely be using a webcam to record or stream yourself for students to view. These handy little video cameras come in many shapes and sizes, any of which can be an invaluable teaching tool for communicating with your students. While webcams are in fact powerful tools that allow you to stay in touch with your students, they can also easily become distractions if misused in a learning environment. This interactive tool highlights some of the unwritten rules that you should follow when using webcams to take full advantage of their potential while limiting the chance for distraction.
Presentation Checker Tool
Effective presentations can be powerful teaching tools, combining multiple modalities to express complex ideas. Creating an effective presentation is a simple process that is oftentimes unnecessarily complicated due to our instinct to try to do too much. Luckily, there are a few easy-to-follow rules for designing effective and meaningful presentations each time. Use this interactive tool to check whether or not your presentations are as effective as they can be.
Advanced Design Techniques
Launch
Now that the hard work of building your course is complete, it's time to share your creation with your students. At this stage, the pressure of building an online class eases a bit. You're finally able to shift gears away from being a full-time content creator back to being an instructor, guide, and mentor. In this final phase, the focus turns entirely on transitioning into your new role as an online instructor and maintaining your presence in this new modality.
Publish your Course
The first, and most important step, is to make your course available to students. By default, it has been unavailable to them while you made preparations and built the environment. Once your course has been available to them, there's no need to share a course link or other enrollment information.
---
Student Grading
Providing your students with timely feedback in any activities that you created is crucial. It serves to keep their class engagement at a high level, reassures them that they are keeping up with the learning goals that you've set forth, and reinforces your social presence in the online environment.
---
Maintain Instructor Presence
Being an online student can often feel like an isolating experience. An important factor of being an effective online instructor is to maintain a strong presence in the environment, letting your students know that you are still there as they progress through the learning process. Following these four simple rules can help you stay connected, even in this digital space.
---
Events Archive
Gain an overview of technologies that will facilitate online teaching and explore instructional techniques to optimize online learning environments. Register to attend a live training session or watch previously recorded sessions.
Ed-Tech Workshops
Blackboard Basics
A tour of some of the essential features found within the Blackboard learning management system, the digital representation of your classroom.
Includes How-To:
Access your course(s)
Upload and manage course materials
Embed multimedia content, i.e. video files and presentations
Create student activities and assessments
Communicate with students
Echo360 Basics
An in-depth view of Echo360, your video management system. See the various ways in which this tool can be used to create active learning materials for your students. Led by Jason Gildner of Echo360.
Including How-to:
FeedbackFruits
An introduction to a suite of tools that are available in FeedbackFruits, a host of services that make interactive and social learning easy. Led by Vlad Ster and Max de Raaff of FeedbackFruits.
Microsoft Teams Basics
Take a comprehensive look at Microsoft Teams, a productivity suite of tools that can be used to engage your students before, during, or after class has ended. Led by Andrea Tejera of Miami Law IT
Zoom Video Conferencing Basics
View a tour of the basic functions and tools found within the Zoom video conferencing platform.
---
Online Pedagogy Webinars
Foundations of Online Instruction
Provides an overview of the guiding principles behind online teaching along with basic methodologies for implementing these strategies online.
Topics include:
 Determining which instructional model best fits your needs.
 Choosing a content delivery method that works for you and your students.
 Considerations for crafting your syllabus.
 Tying it all together with your learning management system.
Building Student Engagement Online
This session covers strategies for leveraging some of the tools found inside of Blackboard to create an engaging environment for students.
Topics include:
Creating communities of inquiry through online discussion.
Driving student progress with assessments and feedback.
Strategies for managing it all inside of your learning management system.
Active Learning in a Virtual Environment
This series of interactive webinars provide first-hand perspectives of Miami Law faculty and how they leverage ed-tech tools to deliver engaging learning experiences.
Topics include:
Creating ongoing communities of inquiry with Microsoft Teams; co-hosted by Prof. Michele DeStefano
Active learning in-and-out of the classroom using Echo360; co-hosted by Prof. Marcia Weldon
Simulating Classroom Interaction in Zoom; co-hosted by Prof. Marni Lennon
---