The importance of networking cannot be overemphasized. Given the fact that students rarely have the opportunity to interact with busy practitioners in a close setting, networking and mentoring affords our students a unique and meaningful experience. Miami Law provides an array of opportunities for students:
Coffee Connectors
Coffee Connectors Network provides law students and alumni with opportunities to connect with Miami Law alumni across the country. With our network of alumni, our law students and alumni can connect with a diverse group of attorneys, obtain opportunities to learn about different practice areas and ultimately receive assistance to transition from law school into practice.

With more than 18,000 alumni worldwide, the Miami Law alumni network is an amazing resource – professionally and personally.  
---
UNetworking
"Our networking is one of the most outstanding abilities on our campus...I was able to meet our general counsel through our Evening with Esquires UNetworking event."
Alessandria San Roman, J.D. '18 discussing her work with Bacardi USA
The University of Miami School of Law's UNetworking initiative provides students the opportunity to meet and speak one-on-one with attorneys and judges from the local Miami community. To provide a forum for students to speak to attorneys, several UNetworking events are scheduled throughout the year and several Miami Law students have landed internships and jobs from their attendance at UNetworking events. These events include:
Breakfast with the Bench
At Breakfast with the Bench, students will have the opportunity to enjoy breakfast with state and federal judges in South Florida to learn more about judicial internships and postgraduate clerkships. Breakfast with the Bench is open to all 1Ls, 2Ls, 3Ls, and LLMs and is free to students. For information contact askus@law.miami.edu.
WATCH: Greg Fritzius interned with the Miami Dolphins Football Legal Department & Hard Rock Stadium in 2019, "I was able to get the job through the Career Development Office and actually met one of the hiring attorneys that works there through the Evening with Esquires in February."
Evening with Esquires
At Evening with Esquires, students will have the opportunity to enjoy dinner with local attorneys representing different fields of law in South Florida. In the past we have invited lawyers practicing in the following areas of the law: Real Property, Trusts & Estate, Environmental / Maritime, Family Law, Tax Law, Entertainment Law, Sports Law, Business and Corporate, Bankruptcy, Intellectual Property Law, Litigation, and Criminal Law. For information contact askus@law.miami.edu.
---
Legal Grounds
Legal Grounds is an initiative that allows students to interact with professors 1-1 to discuss courses, academics and post-grad opportunities, and provides an opportunity to students, faculty and administration to enjoy coffee and bagels in an informal setting. It occurs every Thursday from 8:30-10:30am on the Bass Bricks, and is an initiative in collaboration with Professor Andres Sawicki. Legal Grounds is sponsored by LAFAC. 
What people say:
"Coffee and bagels are the great equalizers! Legal Grounds is one of the few opportunities during the class week where you can informally pal around with administration and faculty and pick their brains about anything like current events or things that are happening during class."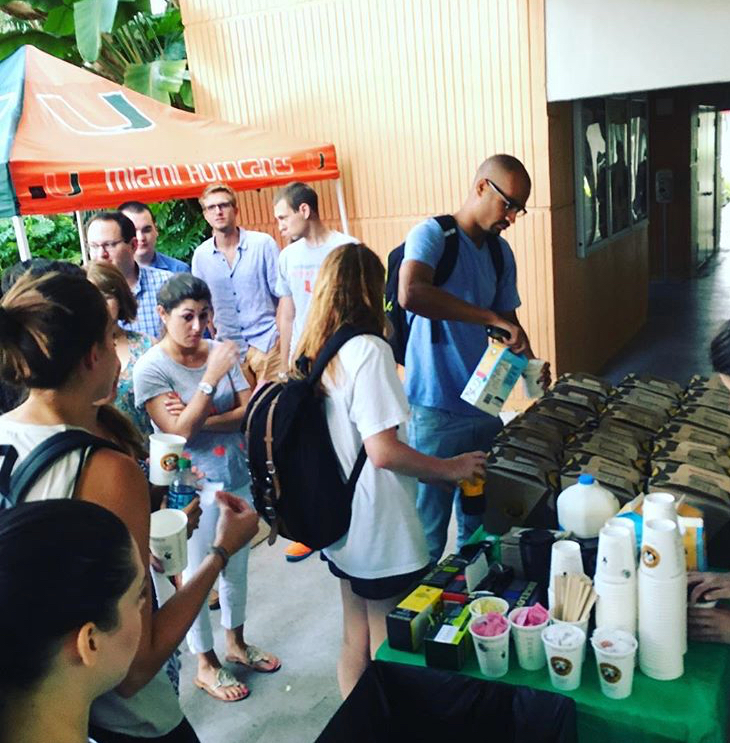 -Alice Kerr, Class of 2020 
"Legal Grounds is a great way to bring students, administrators and faculty together in an informal setting. I met a fantastic 1L student at the AskUs tent during Legal Grounds last week and have since offered him a position as my research assistant in the Human Rights clinic. I'm not sure our paths would have crossed otherwise, so I am very grateful I stopped by Legal Grounds."
-Carrie Bettinger–Lopez, Director of the Human Rights Clinic and Professor of Law
 
---
​Table of Eight
The University of Miami School of Law Young Alumni Committee hosts a monthly Table of Eight dinner which offers Miami Law young alumni an invitation to dine with a distinguished Miami Law alumnus. Seating is limited to seven young alumni on a first-come, first-served basis. (These are not fundraising events and the event covers the meal and related charges.) For more information contact alumni@law.miami.edu or call 305-284-3470.
---
Partnership for Professionalism
For more than 25 years, Partnership for Professionalism is scheduled in the fall and spring of each academic year. Judges, attorneys, and law students attend informal roundtable discussions during a buffet dinner. At each of the tables are seated a judge, three attorneys, and six students.  Prepared scenarios that present issues of civility, ethics and professionalism are discussed at each table, followed by summations by the students coordinated by MiamiLaw alumni. Many of the judges and attorney participants are veterans of the programs attended while they were students at the University of Miami School of Law.
Scenarios are suggested from real-life situations and are offered by judges and attorneys from the community. The evenings are interesting and rewarding, not only for the student participants, but also for the many judges and attorneys who assist in the development of civility, ethics, and professionalism in our South Florida legal community. The coordinator of Partnership for Professionalism is Assistant Dean for Professional Development William P. VanderWyden.  Alumni are encouraged to contact him for suggested ideas and for participation in future meetings: wvander@law.miami.edu  
---
Networking In South Florida
There are a number of mentor programs operating in South Florida that students are encouraged to participate in. Those programs are:
---
Networking Resources
Networking Guides
The Career Development Office publishes a Networking Guide and a Networking Guide for International Students.
Business Cards
Whether seeking a job upon graduation, looking for an internship or externship during the academic year, or simply wanting to develop a network of contacts, it is never too early to think about how to build professional contacts. The Career Development Office encourages students to have professional business cards to enhance their networking experiences.  Please contact the CDO at cdo@law.miami.edu with any questions about ordering business cards.