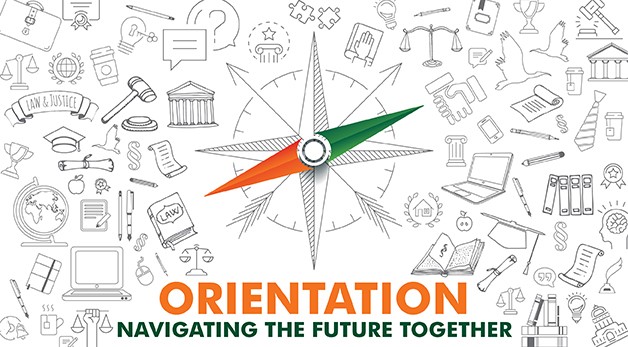 PRE-ORIENTATION
To help ensure a smooth transition to law school, we will make several programs and resrocues available to students beofre Orientation.  First, to assist with your initial reading assignments, our Legal Communication and Research Skills ("LComm") faculty will post two online modules in the 1L Orientation Course on Blackboard: "How to Read a Case" and "How to Brief a Case." Our Librarians will also post a series of modules on "Legal Information: Theory and Practice." Additional materials will be posted in the 1L Orientation Course on Blackboard throughout the summer. These modules, which will help ensure you are ready to hit the ground running, are mandatory and must be completed in advance of Orientation.
Throughout the week of August 2nd and 9th, the Student Technology Help Desk (STHD) will host several virtual IT Office Hours, which will address how to connect to access our wireless network and configure your UM email to your devices.
On Tuesday, August 10th, our Dean of Students will partner with AccessLex for a workshop on Financial Literacy.
On Wednesday, August 11th our HOPE Office and Public Interest Leadership Board will host a Virtual Pre-Orientation Mixer for 1Ls.
Finally, about one week prior to Orientation, you will receive your section assignment, class schedule, booklist, and first reading assignments.
ORIENTATION & FIRST DAY OF CLASS
Our 1L Orientation program will take place Monday, August 16th through Thursday, August 19th. Please note that the Orientation schedule is still being finalized, and we will update this schedule as information becomes available. The Orientation schedule will be structured to allow time for you to get to know the campus, purchase books, and prepare for the start of classes.
While the below Orientation programs are mandatory, we ask that you please RSVP online
Orientation will kick off on Monday, August 16th with our annual Opening Plenary and Oath of Professionalism, featuring remarks by our Acting Dean, SBA leadership, and distinguished alumni.
Additional Orientation programming will include Diversity in Leadership, Strategies for Success, Mindfulness and Wellbeing, Professional Identity Formation, Upper-Level Student Panels, and welcomes from the HOPE Center and Career Development Office. Some programming will be held virtually to allow for social distancing. Attendance at these events is mandatory.
Upper level students will host optional, Dutch-treat (self-pay) dinners at local restaurants on Monday, Tuesday and Wednesday of Orientation week.  The sign-up form is located in the Orientation Blackboard page.  
The semester will begin on Friday, August 20th with your first LComm class and the Law Library's Access to Legal Information class.
CONNECT WITH US
Your future colleagues are connecting on the University of Miami School of Law Class of 2024 Facebook group. If you have not done so already, we encourage you to submit a request to join the group.  
If you have questions about Orientation, please feel free to e-mail Admissions@law.miami.edu.
We look forward to seeing you in August. In the meantime, we wish you a safe and enjoyable rest of the summer!
Miami Law Orientation Committee