Human Rights at Miami Law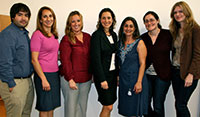 Director of the Human Rights Clinic, Professor Caroline Bettinger-López, served as lead counsel on Jessica Lenahan (Gonzales) v. United States, the first case to be brought by a domestic violence victim against the U.S. before an international tribunal.  Home Truth, a documentary about Jessica Lenahan's fight for justice, premiered at the Human Rights Watch Film Festival in June 2017.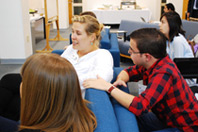 Students from the Universidad Pontificia Bolivariana (Medellin, Colombia) visited Miami Law in January 2012 for a colloquium on human rights. Here, UPB and Miami Law Human Rights Clinic students prepare oral arguments on case currently being litigated at the UPB clinic.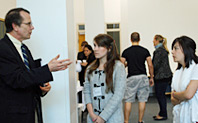 Professor Stephen Schnably exchanging ideas with visiting students from the Universidad Pontificia Bolivariana in Medellin, Colombia.

February 26, 2014: The Miami Law HOPE Public Interest Resource Center, Career Development Office (CDO), Academic Achievement Program, and Human Rights Clinic welcomed Susan Butler Plum, Director of the Skadden Fellowship Foundation, spoke with students interested in applying for a Skadden fellowship and pursuing a career in public interest law. Click here to view the conversation.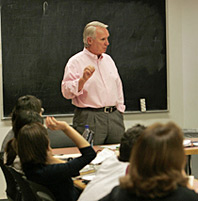 Professor James Nickel writes and teaches human rights law and theory to Miami Law students.