Join the Law Alumni Association Board of Directors
and our Tournament Honorees for the
8th Annual Law Alumni Association Homecoming Golf Tournament!
Wednesday, November 1, 2017
Miami International Links, Melreese Country Club
1802 NW 37 Avenue, Miami, FL
Schedule
11:00 a.m. Check-In and Meet and Greet
12:00 p.m. Tee-Off
 5:30 p.m. Awards Banquet
Tournament Entry Fees (Per Person)
| | |
| --- | --- |
| General Entry | $150 |
| Judiciary, Elected Officials & Young Alumni ('07-'17) | $100 |
| Reunion Class Member | $125 |
| Awards Banquet Only | $50 |
$100 per player is non-deductible
Proceeds benefit the Paul T. Dee Memorial Endowed Scholarship at the School of Law.
Tournament Legal Honoree

H.T. Smith, Jr., JD '73
University of Miami Board of Trustees,
Vice Chair & H.T. Smith, P.A., Founder
H.T. Smith is a trial lawyer, specializing in criminal defense, civil rights and personal injury.  For the past 43 years, Mr. Smith has been a powerful voice and advocate for justice, equal rights and human rights and has been recognized by the National Law Journal as one of America's top 10 trial lawyers of the year received numerous awards and honors for his commitment to uplift his community and for his service to the legal profession. 
Read More
H.T. Smith has excelled as a trial lawyer law in Miami, specializing in criminal defense, civil rights, and personal injury. The National Law Journal recognized him as one of America's top 10 trial lawyers of the year, and he has been inducted into the "Legal Legends" of Miami-Dade County. H.T. is listed in The Best Lawyers in America,   Florida Super Lawyers, and Law and Leading American Attorneys
H.T.'s powerful voice and effective advocacy skills were evidenced early on when he persuaded the University of Miami School of Law to admit him before even taking the Law School Admission Test. His argument: that it was unfair to punish him for not being able to take a test that was not administered in the jungles of Vietnam, while he fought for his country.  
His legal career blazed new trails from the start - - as Miami-Dade County's first African-American assistant public defender, and then as the County's first African-American assistant county attorney. His law firm, Long and Smith, was the first African American law firm to practice in downtown Miami.
H. T. was the founding President of the Wilkie D. Ferguson, Jr. Bar Association. President of the Virgil Hawkins Florida Chapter of the National Bar Association, and President of the then 25,000 member National Bar Association.
H.T. has devoted his entire legal career "agitating" for justice, equal rights and human rights. In a letter to the National Bar Association, President Nelson Mandela wrote, "We join your members in paying special tribute to your retiring President, H.T. Smith, whose name became well-known for his consistent and courageous contribution and support for the struggle of our people against apartheid. We wish H.T. well, we are confident that wherever injustice and racism raises their ugly heads, H. T. will be there to raise his powerful voice of protest and resistance." 
H.T. led the Free South Africa Movement in South Florida, as well as the most successful economic boycott in America since the Montgomery Bus Boycott – the 1,000 days Boycott Miami campaign.
H.T. is currently Vice Chair of the University of Miami Board of Trustees and he serves as Chair of the Ad Hoc Committee on Trustee Membership and Governance. He is a proud graduate of Florida A&M University, where he earned a Bachelor of Science Degree in Mathematics, and a minor in Physics. 
In addition to his many professional and community endeavors, H.T. is the proud father of three daughters, and two grandchildren.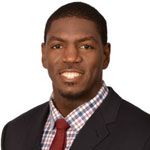 Tournament Sports Honoree
Jonathan Vilma, BBA '04
ESPN, College Football Commentator and Studio Analyst, & University of Miami Board of Trustees Member and Football Player (2000 – 2003)
Jonathan Vilma is an entrepreneur, investor, and former NFL linebacker.  He played for 10 seasons in the National Football League for the New Orleans Saints and New York Jets.  He is currently a college football commentator with ESPN. 
Read More
The three-time Pro Bowl middle linebacker was the Associated Press Defensive Rookie of the Year in 2004 as the Jets' first-round draft pick. He was an integral part of the Saints organization where, as Team Captain, he led the defense to their first Super Bowl Championship in 2009, and he was recently elected into the Saints Hall of Fame.  A college standout at the University of Miami both academically and athletically, he was part of the Hurricanes National Championship football team in 2001 and was inducted into the UM Hall of Fame in 2015.
Following his retirement from the NFL, Jonathan began his second career in the entrepreneurial and media sectors.  He is currently a college football commentator with ESPN and also served as a football analyst on NBC's ProFootballTalk with Mike Florio as well as a pre-game and halftime analyst for NBC's coverage of Notre Dame Football prior to joining ESPN in 2016.
Jonathan has been pursuing his entrepreneurial endeavors as an investor and operator before the end of his football career, which prepared him well for becoming an operator full time in the fast casual food franchise sector.  He is a Master Franchisee for two popular food concepts in the South Florida area – Pincho Factory and Brother Jimmy's.  Pincho Factory is a fast growing, award winning burger and kebab restaurant in the South Florida area.  Brother Jimmy's is a popular chain of barbecue restaurants in Miami and New York.  Jonathan looks forward to growing both brands and taking on new concepts as he continues to grow his franchising enterprise. 
Jonathan lives in Miami, Florida and has a Bachelor of Business Administration from the University of Miami, where he currently serves on the Board of Trustees.
The Paul Dee Memorial Endowed Scholarship was established in 2014 by the Law Alumni Association with proceeds of their Annual Homecoming Golf Tournament and with a generous gift from his son, Terrence A. Dee, JD '99, family and friends, to honor the memory of the late Paul Dee, JD '77, former UM Secretary of the Board of Trustees, General Counsel and Athletic Director (1993-2008) as well as adjunct faculty at the School of Law. The scholarship is awarded annually with preference given to students who have an interest in sports law.   
2017 Golf Tournament Committee
Co-Chairs
Elizabeth B. Honkonen,JD '98
Harris W. Gilbert, JD '03
Thomas W. Risavy, JD '85
Tod N. Aronovitz, JD '74 
Carla M. Barrow
Hon. Stanford Blake, JD '73
Gary M. Carman, JD '74
Terrance A. "Tad" Dee, JD '99 
Devang Desai, JD '03
Lydia A. Fernandez, JD '79
Lindsey L. Friedman, JD '11
Mark A. Hendricks, JD '88 
Melissa V. Jordon, JD '16
David Josefsberg
Jason P. Kairalla, JD '02
Max A. Leinoff, JD '13
Daniel R. Lever, JD '07
Jerry M. Markowitz, JD '74
Lee P. Marks, JD '84
Raquel M. Matas
Hon. Marisa Tinkler Mendez
Michael Nachwalter, JD '67
Todd S. Payne, JD '89
Mark F. Raymond, JD '83
Patricia A. Redmond, JD '79
Gary S. Reshefsky, JD '99, MBA '00
Laurence M. Rose
Detra Shaw-Wilder, JD '94
Edward R. Shohat, JD '72
Brent F. Sibley, MBA '08, JD '08
Joshua B. Spector, JD '02
We Thankfully Acknowledge Our Sponsors
Corporate Foursome Sponsors
BB&T
   Tony Coley, President
   Joe Livolsi, Wealth Regional Director
   Matt Fink, Business Services Officer
Broad and Cassel
Kenny Nachwalter
Lydecker Diaz
McCluskey, McDonald & Hughes P.A.
Tropic Mechanical
Zebersky Payne, LLP
 
Hole In One Sponsors
Lexus of Kendall
Lexus of West Kendall
 
Beverage Cart Sponsor
Grossman Roth Yaffa Cohen
 
Small Firm Sponsor
Cundy, Inc.
Flanagan Personal Injury & Wrongful Death Law Firm, P.A.
 
Hole Sponsors
ATTY H.T. SMITH
Cobb Family Foundation, Inc.
Esquire Deposition Solutions, LLC
PracticePanther Legal Software
Veritext Legal Solutions
 
Benefactor Sponsors
Podhurst Orseck
Ralph M. Byer
 
From the Heart Sponsors
ATTY H.T. Smith, Jr.
Bougainvillea's Old Florida Tavern
DeCardenas, Freixas, Stein, & Zachary, PA
   Barry A. Stein
Del Monte Fresh Produce Company
Elizabeth B. Honkonen
Gilbert & Smallman
Lindsey and Todd Friedman
MDO Partners
Speed Print One
Stanford Blake Mediation
Thomas Risavy