A major focus of the LL.M. program is for students to gain a more intimate understanding of what to expect in practice and be "client-ready" and able to walk into a meeting with instant credibility. To become apprised of recent legal and business developments in entertainment, arts and sports law top practicing attorneys teach relevant and timely courses, and practical learning is a large component of the program.
Practicum & Internships
Each student receives supervised, hands-on training in a workplace related to the student's track of study.
"I am honored to be this year's Legal & Business Affairs Intern for The Television Academy Foundation's Internship Program, I feel truly empowered to be working with such an inclusive and diverse group of future television leaders. At HBO, I am observing in-depth the legal and business aspects of the television industry. I am participating and engaging in the negotiation of talent agreements (on-screen, writer/producer, and directors)."
Camila Pedraza, J.D./LL.M. 
Commenting on her Television Academy Foundation's 2018 Internship Program
PLACEMENTS HAVE INCLUDED
Adrienne Arsht Center for the Performing Arts (Miami, FL)
Bacardi (Miami, FL)
BBC Studios (Miami, FL)
BTF Media (Miami, FL)
Caracol International (Miami, FL)
Charlotte Hornets (Charlotte, NC)
Chase Lawyers (Miami, FL)
Complex Media (New York, NY)
CONCACAF (Miami, FL)
Crossbrand (Miami, FL)
Danziger, Danziger & Muro, LLP (New York, NY)
David M. Ehrlich & Associates, P.C. (New York, NY)
DC United (Washington, D.C)
Goldberg Segalla (Bufallo, NY)
HBO (Miami, FL)
HBO Latin America (Miami, FL)
Heitner Legal (Miami, FL)
Inter Miami CF (Miami, FL)
Janine Small, PLLC (New York, NY)
LegalLink (Miami, FL)
Legends (New York, NY)
Magic Leap (Plantation, FL)

Miami Dolphins (Miami, FL) 
Minnesota Vikings (Minneapolis, MN)
Multicultural Media Telecom & Internet Council (Washington, D.C)
NBC Sports Group (Stamford, CT)
NBC Universal Telemundo Enterprises (Miami, FL)
NBCUniversal Global Networks International (Miami, FL)
Odyssey Sports Group (Salt Lake City, UT)
OHL North America (College Point, NY)
Orange Bowl (Miami, FL)
Roc Nation Sports (NY, NY)
Sony Music (New York, NY)
Talented Tenth Firm (Ft. Lauderdale, FL)
The Davis Firm (New York, NY)
The Society Management (New York, NY)
THINK450 (New York, NY)
TSL Global Productions
UFC (Las Vegas, NV)
UM Athletic Department (Coral Gables, FL)
Universal Orlando (Orlando, FL)
Warner Music (Miami, FL)
Williams and Floyd, LLC (Atlanta, GA)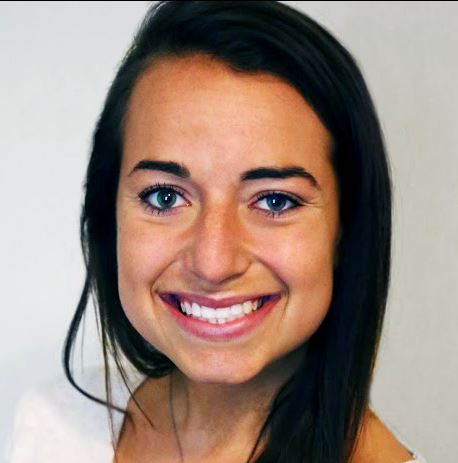 "It affirmed my ultimate career goals. As I am getting my J.D/LL.M in Sports and Entertainment Law, I've wanted to get into this sphere, and it has given me direct insight into exactly what this type of law is actually like, and I love it."
Alyssa Levy, J.D./LL.M. Class of 2022
(Commenting on her summer 2021 Internship at Madison Square Garden Entertainment Corp, New York, NY, where her duties included transactional work involving sponsorships, partnerships, and events across all of the company's properties, including Madison Square Garden, Hulu Theater, Chicago Theatre, Tao Lounges, and the MSG Sphere.)
 
---
Site Visits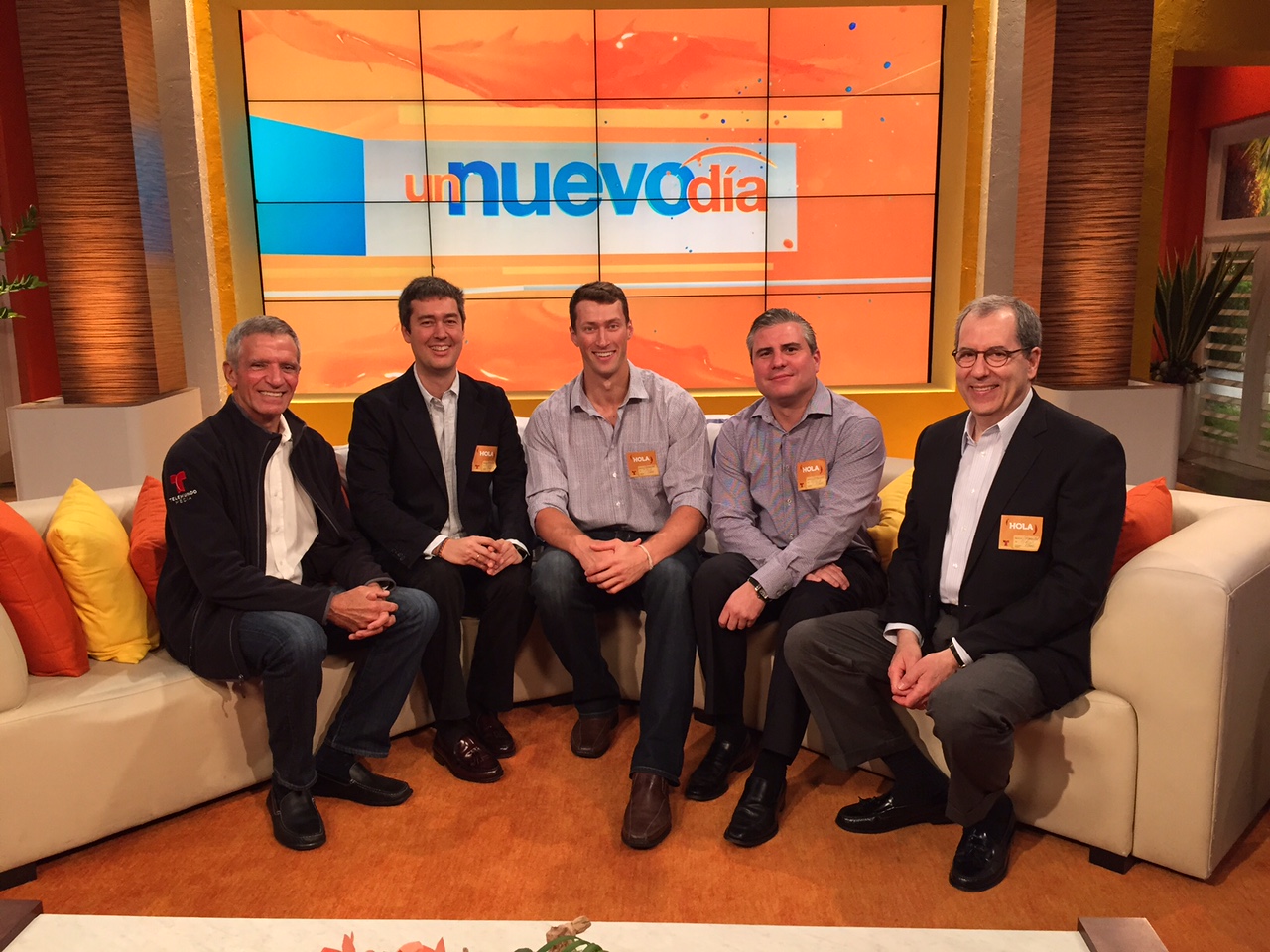 Students are invited to local entertainment companies, museums, and professional sports franchises, where they can gain an understanding of business operations, and interact with counsel. (Pictured: 
Students

and the D

irector of the P
rogram, Harold Flegelman,
visit Telemundo and meet with Jose Sariego, then Senior Vice President for Business & Legal Affairs)
Past Site Visits have included: Telemundo, The Miami Dolphins/Hard Rock Stadium, PAMM, The Miami Heat, Florida Panthers, Florida Marlins, and NATPE (National Association of Television Programming Executives)
 
Mentorship
By matching a mentor with each student based on student background and interest; the mentors are industry professionals available to bounce ideas off of in connection with career development.  
Tutorials
Students stay on top of the latest activity in the entertainment, sports and arts industries. Prominent attorneys and professors conduct interactive sessions on topics of high interest in the marketplace. Tutorials have included:
•    "Emerging Issues in Digital Rights Management," Ana Salas Siegel (General Counsel, NBCUniversal Telemundo Enterprises)
•    "Representing Social Media Influencers," Brenda Schamy (Partner, DiSchino & Schamy)
•    Transactional law practice "boot camp" for the sports industry, Charles Baker and Irwin Raij (Partners and Co-Chairs of O'Melveny's Sports Industry Group)
•    "The Art of NFL Contract Negotiation," Jeff Diamond (former General Manager of the Minnesota Vikings and President of the Tennessee Titans)
•    "Sports and the Media," Nicky Lewis (Assistant Professor, School of Communication, University of Miami) 
Weekly Guest Speaker Series
Prominent attorneys and executives in the applicable fields are invited as guest speakers to address students on a weekly basis. They discuss industry developments and their own career paths.
(Pictured: Leigh Steinberg, center, one of the most successful agents in professional sports and the basis for "Jerry Maguire" spoke to students in the "Sports Law" class.)
Guest Speakers Have Included:
David Schwartz –  Assistant General Counsel, The Walt Disney Company
Cristina Scarano –  VP, Business & Legal Affairs for Latin America & US Hispanic, BBC Studios
Sandy York –  General Counsel to the Ultra Music Festival and Principal of York PLLC
Stephanie Galvin –  Associate Counsel, Miami Marlins, guest-lectured in the course "Representing the Professional Athlete."
Ana Salas Siegel –  General Counsel, NBCUniversal Telemundo Enterprises
Christine Vincent – Project Director, Artist-Endowed Foundations Initiative, The Aspen Institute
Aric Kurzman – General Counsel, Adrienne Arsht Center for the Performing Arts
Steven Marx – Partner, Podhurst Orseck, P.A.
Michael Cheah – General Counsel, Vimeo
Steve Silton – Partner, Cozen O'Connor LLP
Danna Haydar – Associate General Counsel, Tampa Bay Lightning
Catherine Levene – Co-Founder, Artspace.co
See more guest speakers
•    Lita Rosario –  Founder, WYZ Girl Entertainment Consulting, LLC
•    Scott Parrish –  COO/CFO of Alcon Entertainmen
•    David Fierson –  Head of Operations and General Counsel of Anonymous Content
•    Beth Collins –  EVP, Business Development at Azoff MSG Entertainment
•    Darren Heitner (Founder, Heitner Legal)
•    Darren Weiner, President & CEO of Celebrity Advisors LLC
•    From the NCAA, Jon Duncan (VP of Enforcement), Jennifer Henderson (Managing Director of Academic and Membership Affairs) and Naima Stevenson (Managing Director of Academic and Membership Affairs/Deputy General Counsel) – guest-lectured in the course "Intercollegiate Athletics:  Law, Policy and Regulatory Landscape."
•    Gail McQuilkin, Partner, Kozyak Tropin Throckmorton
•    Hal Biagas (President and Founder, Sideline Sports Management) and Dennis Curran (SVP and General Counsel for the NFL Management Council) – guest-lectured in the course "Cutting Edge Issues for Sports Law Practitioners in a Collectively Bargained World."
•    Jason Bonk, experienced litigator, Hollywood screenwriter and author
•    Jason Dufner (professional golfer) and Ben Walter (Founder of Walter Sports Advisory, and Mr. Dufner's agent) – guest-lectured in the course "Representing the Professional Athlete."
•    Marlynn Jones, Assistant Director and Deputy Title IX Coordinator, Equal Opportunity Programs and Diversity, Florida International University
•    Myles Pistorius (SVP, General Counsel, Miami Dolphins), Marcus Armas-Bach (Director, Legal and Government Affairs, Miami Dolphins) and Joseph Rich (Vice Chair and Managing Partner, Miami Office of Cozen O'Connor) – guest-lectured in the course "Representing the Professional Sports Franchise."
International Symposium
Students in the program attend a two-day International Symposium on Entertainment, Arts and Sports Law.
Independent Study
Tutorials are available for students to have additional writing opportunities and work on business-related projects.
---
Career Outcomes: Graduates Work in Firms, Agencies and Organizations:
Andreina Zerpa, LL.M. '17  is the Manager of Content Clearance & Business Affairs at Ole Communications.
Celeste McCaw, LL.M. '16 is an Attorney and Telecommunications Fellow at the National Council of Negro Women
Evan Green, LL.M. '17  is an agent in the Baseball Division of Creative Artists Agency.
Harris Shain, LL.M. '16  is an associate at Nason, Yeager, Gerson, White & Lioce P.A.
Jamie Lincenberg, LL.M. '16  is in the TV Business Affairs Department at Lionsgate.
Jose Escrina, LL.M. '16  is Spotify's Director of Publishing and Licensing (LATAM).
Katherine Brennan, LL.M. '16  is a Trust Administrator at U.S. Trust's New York City office.
Lionel Yarmon, LL.M. '16  is a Business Development Manager at New Alchemy Financial Services.
Maksymilia Wandel, LL.M. '16  is at Athletes – USA.
Maria Jose Rivera, LL.M. '17  is a Media Rights Analyst in the Business Affairs Department at Univision.
Polina Ivko, LL.M. '17 is an associate at Amindeddoleh & Associates.
---
More Photos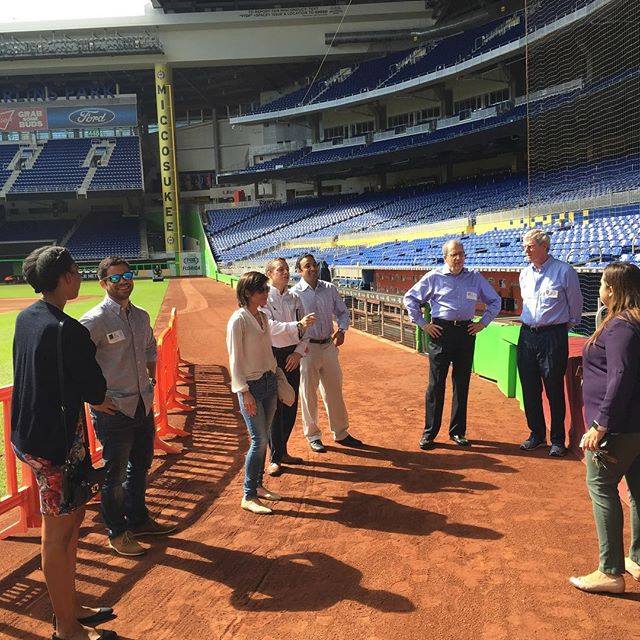 Students met with Miami Marlins Senior Legal Counsel at Marlins Park Stadium.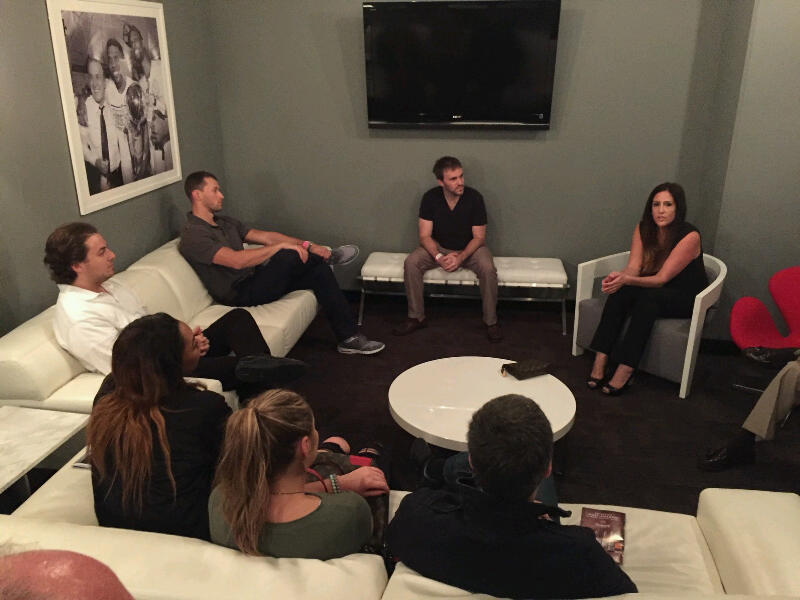 Students meet with Miami Heat VP and Associate General Counsel Vered Yakovee.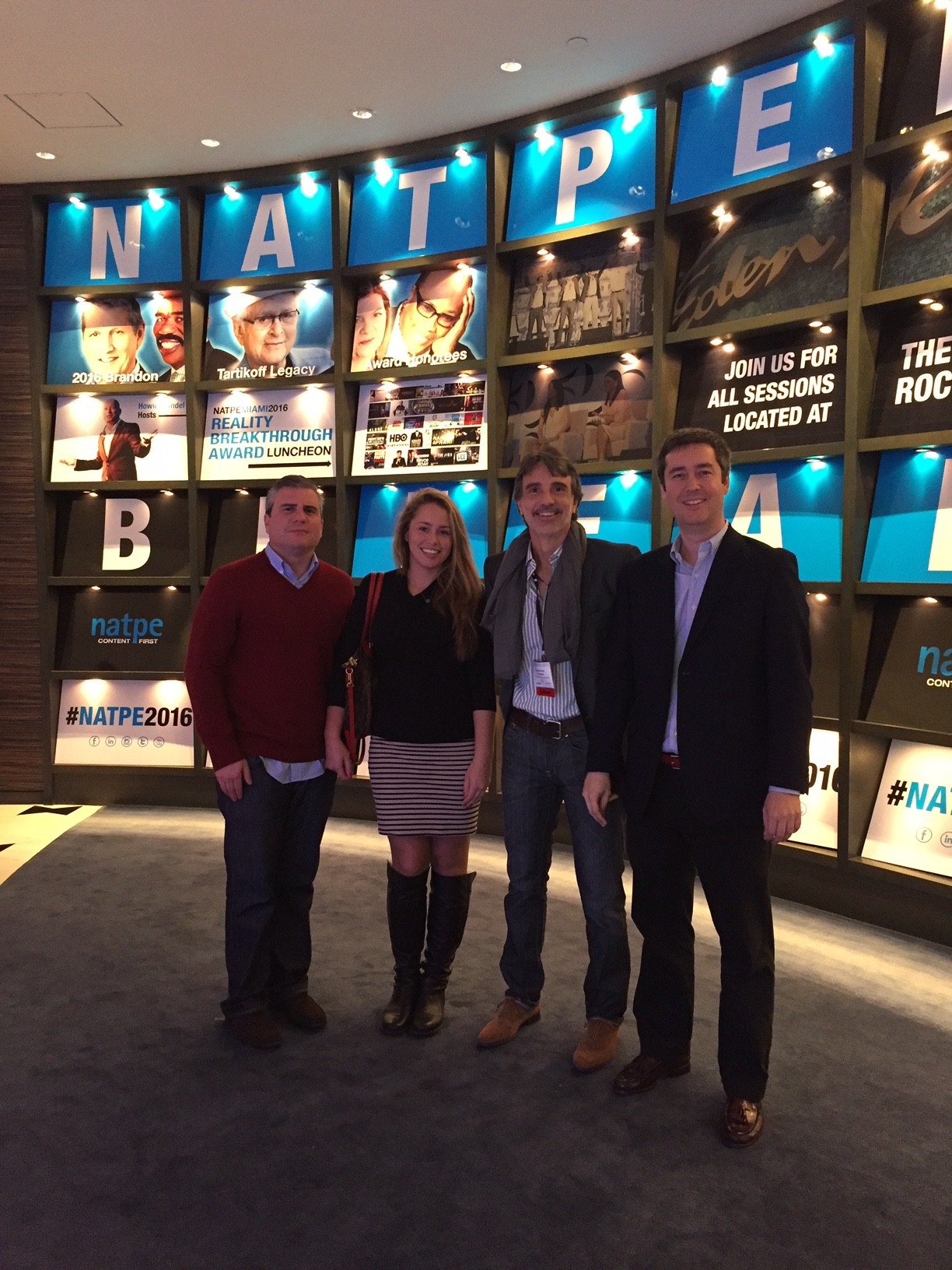 Students attend NATPE - National Association of Television Programming Executives. (Pictured with Visiting Professor Hernan Pantaleon [second from right], who teaches "Legal Aspects of Television Production in Latin America.")
---
Learn More​
Entertainment Track / Arts Track / Sports Track
Contact: EASL@law.miami.edu