A major focus of the
Tax LL.M. program
 and the
Taxation of Cross-Border Investment LL.M. program
is for students to gain a more intimate understanding of
what to expect in practice
and be "client-ready." To become apprised of recent legal and business developments in tax,
top practicing attorneys
 teach relevant and timely courses, and practical learning is a large component of the program leading to positive
career outcomes
. 
Career Advising Specifically for Tax LL.M. Students
Miami Law's
Career Development Office (CDO)
offers comprehensive services and resources – online and on campus - to assists students with starting their careers or advancing their professional goals. Students have access to extensive job search databases and resources.  
The Tax LL.M. Program has a liaison in the Career Development Office. This experienced career advisor is exclusively dedicated to students enrolled in the Tax LL.M. Program
(pictured Debbie Rowe-Millwood, Special Advisor to Tax LL.M. and JD/MBA and Associate Director, Career Services)
assists with their job searches and professional development needs, including one-on-one training on networking, resume writing and interviewing skills.
Involvement in Professional Organizations
Representatives from professional organizations regularly invite students to their events, which are excellent networking opportunities. Organizations include:
The American Bar Association
Society of Trust and Estate Practitioners (STEP)
Florida Bar Association
Greater Miami Tax Institute
The International Fiscal Association
South Florida Tax Litigation Association
Networking / Career Fairs
Miami Law has an extensive alumni network, and students are encouraged to network and build relationships with fellow 'Canes who also work in tax. In addition, every year The University of Miami School of Law Graduate Program in Taxation and the IFA USA/Young IFA Network hosts a reception on the eve of the ABA's U.S.–Latin American Tax Planning Strategies Conference which LL.M. students can attend.
Students also participate in Miami Law's on campus recruiting program and University of Miami's Accounting Career Fair each fall, which brings together international, national, and regional accounting firms on the campus to recruit tax students.
Students also attend conferences, lectures and other networking events with tax practitioners and other organizations.
Learn more about career outcomes for Tax LL.M. graduates.
Tax Tuesdays Lecture Series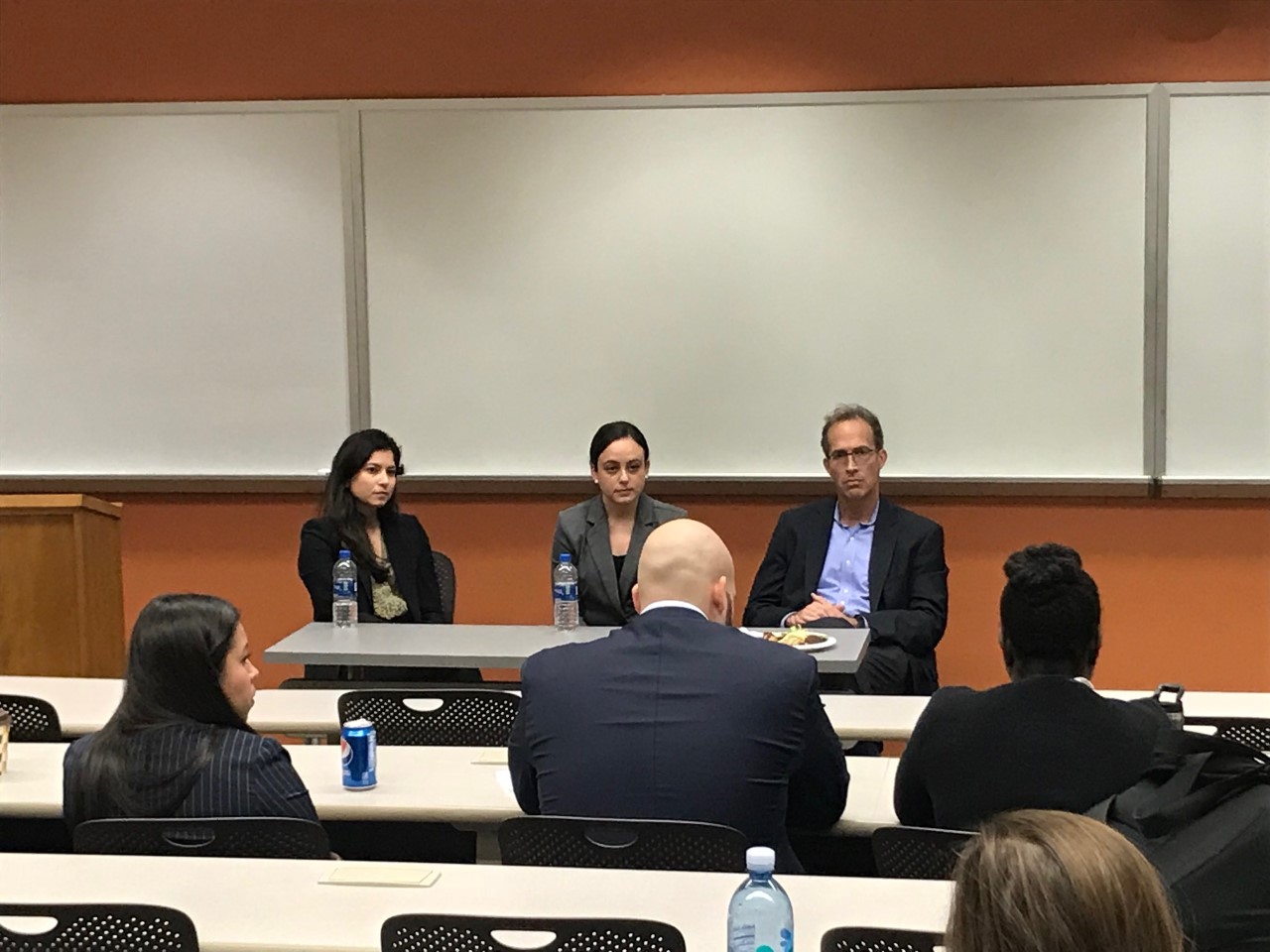 (
Pictured: Tax Tuesday session with Nellie E. Barcia, Arazoza & Fernandez-Fraga P.A.; Claire Arritola- Greenberg Traurig, P.A; Joe Kellogg, WE Family Offices 
)
Students in the Graduate Program in Taxation and the Graduate Program in Taxation of Cross-Border Investment LL.M. Program attend weekly Tax Tuesday presentations throughout the academic year. In the fall semester, the goal is to introduce students to all of the different ways to be a tax lawyer.  Accordingly, each week practitioners from a wide range of law firms (both big and small), accounting firms, financial institutions and family offices speak to students about the type of work they do and how a Tax LL.M. has helped them in their careers. Representatives from professional organizations discuss how membership and active participation can enhance legal careers. In the spring semester, students work in groups to give presentations on current tax topics to develop their skills in explaining complex tax issues in language their future clients will understand.
---
More Information
Online LLM for Foreign Lawyers
Tax Law Faculty
Course Descriptions
Admissions Requirements
Career Outcomes