You can enhance your legal career with advanced training in a complementary discipline. Recognizing the increasing need for specialization, Miami Law offers a wide range of options offered at the law school itself and in cooperation with the University's renowned graduate schools. Miami Law additionally offers concentration / areas of focus for students looking to specialize. 

Joint Degrees in the News: "Alumna at Spotify Rocks Her Joint Music & Entertainment Law Degrees"
Joint degree programs enable you to:
- Earn a law degree and a second (or third) graduate degree simultaneously
- Receive more than one degree in less time and at a lower cost than persuing the degrees separately
- Broaden your marketability
LISTED BY:  
Area of Study  /  Degree or Concentration  /  University of Miami Academic Partner
Arts, Entertainment, Sports
Business, Asset Management
Environment, Science, Maritime
Healthcare
International, Comparative Law
Litigation, Dispute Resolution
Public Affairs/Communication
Real Estate Development
Social Justice, Public Interest 
*Only for law students who were undergraduate business majors, unique triple degree programs allow three degrees to be obtained in just four years.
Advice: What to Keep in Mind When Considering a Joint Degree
For students interested in completing a second program degree in addition to their J.D. degree, it is always a good idea to create a general plan and timeline for completing both degrees. The simplest way to think about a joint degree program is that admissions, degree requirements, tuition, and degree conferral are all separate. The only aspect that is joint, is the double-counting of some number of credits between the two programs. Questions to consider include: 
Is the GRE required for the second program?
Must joint degree study first start on the J.D. side?
If there is one, what is the application deadline for the second program?
Does the second program offer any scholarship possibilities?
Is an internship or capstone project required for the second program?
Are there any possible J.D. courses, externships, clinics, or other activities that might require special consideration from a course load and scheduling perspective?
Are there any additional J.D. course requirements which exist for some of joint degree programs?
When to Apply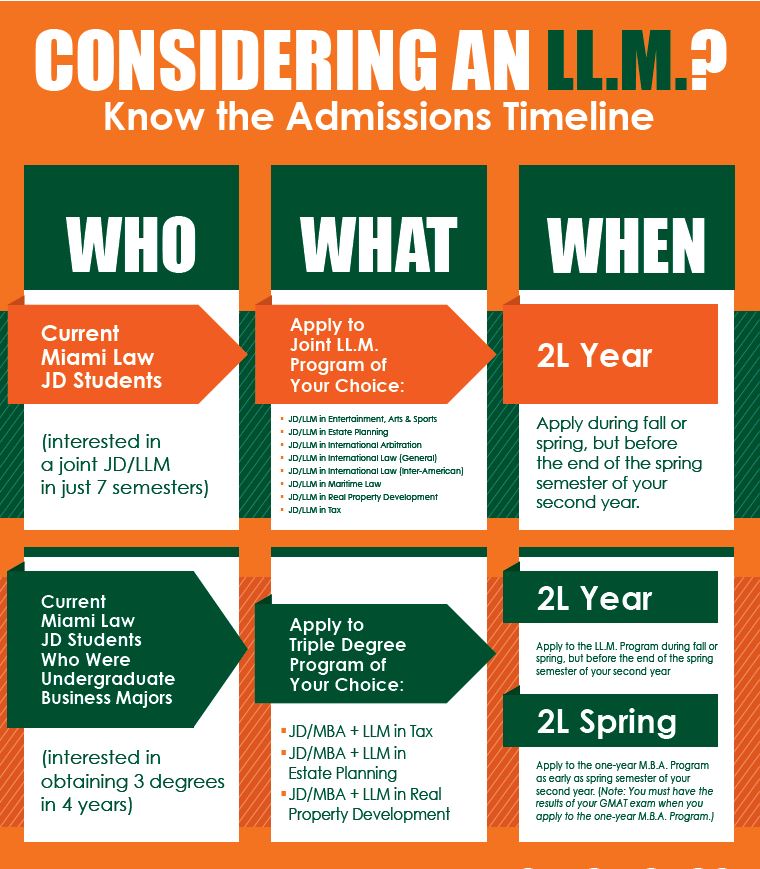 Joint J.D./LL.M. Program: 
Students will typically apply to the second program (LL.M.) during their second year of law school, and begin taking courses in the LL.M. program during the fall of their 3L year. 
Joint J.D. + Degree at Other UM School: 
Students will typically apply to the second program during their first year of law school, and begin taking courses in the second program as well as in the J.D. program during their second year. Most students participating in a joint degree program will need an extra semester, or perhaps two to complete both degrees. For many programs, it will be possible to complete the J.D. program at the end of the third year allowing students to graduate with their law school cohort.
LL.M. Program International Students: Application Requirements for Admission to the J.D. Program: 
Current Miami Law LL.M. students should submit an application for admission to the J.D. program during the Fall semester of their LL.M. studies and no later than November 1. If you begin a LL.M. program in the Spring semester you must apply for admission to the J.D. program no later than April 1. It is recommended that students discuss their intention to apply to the J.D. program with their LL.M. program director early on in their LL.M. studies to make sure their course selection enables them to complete all graduation requirements effectively. Please refer to the J.D. application overview page for further information.
A separate admissions committee will review their application and determine eligibility to enter the J.D. program. The admissions committee takes into consideration the nature of, and grade point average in, classes taken by the applicant while enrolled in the LL.M. program. 
For More Information
J.D./LL.M. Degrees
Contact Lorrie Capps, LL.M. Operations Manager at lcapps@law.miami.edu or at 305-284-4702.
J.D./Master's Degrees
Contact Hakim A. Lakhdar, Director of Professional Legal Programs at hlakhdar@law.miami.edu or 305-284-4345.
Questions from prospective law students not yet admitted to Miami Law should be addressed to J.D. Admissions.