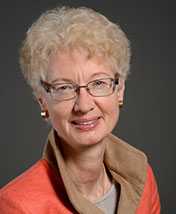 "My studies at UM's Law School helped my career tremendously because I had the opportunity to take classes in my area of expertise. Upon returning to Germany, I applied the knowledge I obtained in Miami to write my doctoral thesis in this field."
Doris König, LL.M. '82
Christian Albrecht University, Germany
Judge, Federal Constitutional Court of Germany, Former President of Bucerius Law School
Watch videos of more graduates from across the world talk about their experiences in Miami Law's LL.M. programs.
Argentina
Luciano Pieri, LL.M..J.D.
-J.D. equivalent, Universidad del Salvador
Embedded Video
Maria Candela Gonzalez Mendoca, LL.M. '11, International Law (U.S. & Transnational Law for Foreign Lawyers)
-Bilingual Baccalaureate in Human Sciences, Instituto Colegio de Todos los Santos
-Juris Doctor Equivalent, Pontifica Universidad Catolica Argentia
Embedded Video
Brazil
Andre Ferreira, LL.M. '11, International Law (U.S. &  Transnational Law for Foreign Lawyers)
-Corporate Law Certificate, Instituto Brasileiro de Mercado de Capitais
-Juris Doctor Equivalent, Mackenzie Presbyterian University
Embedded Video
Anna Candida Sammarco, LL.M. '11, International Law (U.S. &  Transnational Law for Foreign Lawyers)
Currently Head of Publi Law and Reulatory Practice, Lefosse Advogados, Brazil
-Rafael C. Benitez Scholar
-Public Private Partnerships Certificate, Getulio Vargas Foundation
-Administrative Law Certificate, Brazilian Association of Public Law
-J.D. Equivalent, Mackenzie Presbyterian University
Embedded Video
Canada
Bettina Schendel, LL.M. '12, International Law (U.S. & Transnational Law for Foreign Lawyers)
-J.D. Equivalent, College of Law, York (U.K.)
-B.A., University of British Columbia
Embedded Video
Cuba
Juan Martinez Evora, LL.M./J.D. '11
J.D. Equivalent, University of Havana
Embedded Video
Dominican Republic
Paola Pujols, LL.M. '11, International Law (U.S. & Transnational Law for Foreign Lawyers)
-Bachelor of Laws, Pontifica Universidad Catolica Madre y Maestra
Embedded Video
Finland
Salomo Kantele, LL.M. '12, International Law (U.S. & Transnational Law for Foreign Lawyers)
-J.D. Equivalent, University of Helskinki
Embedded Video
France
Léa Dartevelle, LL.M. '11, International Law (U.S. & Transnational Law for Foreign Lawyers)
Currently Associate at Kasowitz, Benson, Torries & Friedman LLP, New York City
-Master of Law and Political Science, French and American Law, University of Paris
-LL.B. Political Sciences, French and American Law, University of Paris
Embedded Video
Germany
Andreas C. Hoffmann, LL.M. '95
-General Counsel and Head of Legal and Compliance Siemens 
Embedded Video
Honduras
Diego Milla, LL.M. 12, International Law (U.S. & Transnational Law for Foreign Lawyers)
J.D. Equivalent, Universidad Salamanca, Spain
Embedded Video
Israel
Karen Bella, International Law (U.S. & Transnational Law for Foreign Lawyers)
J.D. Equivalent, Sha'arey Mishpat College
Embedded Video
Italy
Massimiliano Teia, International Law LL.M. '06, U.S. & Transnational Law for Foreign Lawyers
Hear how Teia sat for the New York Bar and is currently International Consultant with ARHMF (Avila Rodriguez Hernandez Mena & Ferri LLP), Miami
-Università degli Studi de Ferrara, Italy
-Liceo Scientifico, Italy
Embedded Video
Kazakhstan
Svetlana Zhanai-Darova-Nemeroff, LL.M./J.D. '12
Currently attorney at Law Offices of Svetlana Z. Nemeroff, Stuart, Florida
-Ph.D. in Jurisprudence, Institute of Private Law of the Kazakh State Juridical University in Civil Law
-J.D. Equivalent, Karaganda State University
-Physics and Mathematics Degree, Karaganda State University
Embedded Video
Moldova
Rodica Palii, International Law LL.M. (U.S. & Transnational Law for Foreign Lawyers)
-J.D. Equivalent, Moldova State University
Embedded Video
Mexico
Ana Lilia Fuentes, LL.M. '12, International Law ( U.S. & Transnational Law for Foreign Lawyers)
Currently Socio en Fuentes, Ruiz Rocha y Asociados S.C., Mexico
-J.D. Equivalent, Universidad Panamericana
Embedded Video
Nigeria
Gosifie Okafor, LL.M. International Law (U.S. & Transnational Law for Foreign Lawyers)
-J.D. Equivalent, Nnamdi Azikiwe University
Embedded Video
Peru
Victor Mayorga, J.D./LL.M. in International Law U.S. and Transnational Law for Foreign Lawyers
Currently Attorney with Rivero Mestre, Miami
-Rafael Benitz Scholar
-J.D. Equivalent, Universidad Nacional Mayor de San Marcos
Embedded Video
Puerto Rico
Charlene Seda-Ramirez, International Law LL.M. '11
-J.D., Pontifical Catholic University of Puerto Rico
-Bachelor of Government and World Affairs, University of Tampa
Embedded Video
Russia
Yana Mityaeva, LL.M. U.S. and Transnational Law/J.D. Transfer
-J.D. Equivalent, Siberian State Academy Geodesy
Embedded Video
Saudi Arabia
Firas Ikhwan, International Law LL.M., U.S. and Transnational Law for Foreign Lawyers '12
-J.D., University of Miami School of Law, United States
-B.A., University of Western Ontario, Canada
Embedded Video
Serbia
Nenad Milosevic,  LL.M./J.D. Transfer '11
-J.D. Equivalent, University of Belgrade
Embedded Video
Switzerland
Gerald Virieux, International Law LL.M. '11, International Arbitration
-Master in Business Law, University of Geneva
-License en Droit, University of Fribourg
-Maturite Federale, Gymnase Francais de Bienne
Embedded Video
Sweden
Jonas Cullemark, LL.M./J.D. Transfer
-J.D. Equivalent, Stockholm University
Embedded Video
Ukraine
Iryna Vorona, International Law LL.M. '12 (U.S. & Transnational Law for Foreign Lawyers)
-J.D. Equivalent, Lviv Ivan Franko National University
Embedded Video
United Kingdom
Jacques Sultan, International Law LL.M. '11 (U.S. & Transnational Law for Foreign Lawyers)
Graduate Diploma in Law, College of Law
Bachelor's in Business Finance, Durham University
Embedded Video
United States
Theodore Massey III, International Law LL.M. '12
-J.D., University of Miami School of Law
-B.A., SUNY Oswego
Embedded Video
Julianne Parker, International Law LL.M. '12 (International Arbitration)
-J.D., University of Florida School of Law
-B.A., University of Miami
Embedded Video
Venezuela
Alexandra Aguirrebeitia, International Law LL.M. '12 (U.S. & Transnational Law for Foreign Lawyers)
-J.D. Equivalent, Universidad Católica Andres Bello
Embedded Video