SUPPORT THE COURAGE PROJECT
The Human Rights Clinic works to strengthen the law enforcement response to domestic violence and sexual assault locally in Miami, nationally, and globally through the COURAGE in Policing Project.

CONTACT INFORMATION
Human Rights Clinic
University of Miami School of Law
1311 Miller Drive, E295A
Coral Gables, FL 33146
Phone: 305-284-1678
Fax: 305-284-6093
LEADERSHIP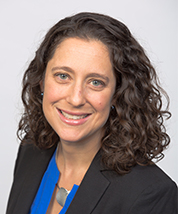 Caroline Bettinger-López
Professor of Clinical Legal Education & Director, Human Rights Clinic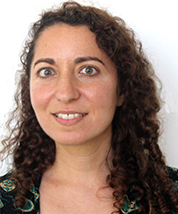 Tamar Ezer
Associate Director, Practitioner-in-Residence Human Rights Clinic & Lecturer in Law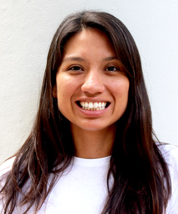 R. Denisse Córdova Montes
Practitioner in Residence
Human Rights Clinic & Lecturer in Law

STAFF
Rose Dominguez
Senior Manager
(305) 284-4542
rdominguez@law.miami.edu

Danny Vargas
Senior Manager
(305) 284-8537
dvargas@law.miami.edu
SUPPORT US
If you would like to make a gift to the Human Rights Clinic please contact Anthony Stewart, Director, Development & Annual Giving at 305-284-1790 or email astewart@law.miami.edu.
PHOTOS
See more photos of the Human Rights Clinic in action on Flickr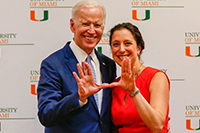 Human Rights Clinic Director (and former White House Advisor Against Women) Caroline Bettinger-Lopez with former Vice President Biden at the It's On Us Rally at the University of Miami (March 20, 2018).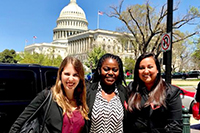 Human Rights Clinic students Maria Rodriguez, Riva Ryan, and Danielle Befeler attended the YWCA Congressional Hearing on eliminating racism and empowering women in Washington DC (April 25, 2018).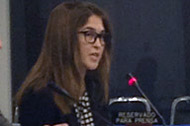 Charlotte Cassel, 3L, makes opening remarks during a thematic hearing before the IACHR.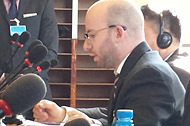 James Slater, 3L, delivers statement on immigration and deportations to Haiti before the UN Human Rights Committee