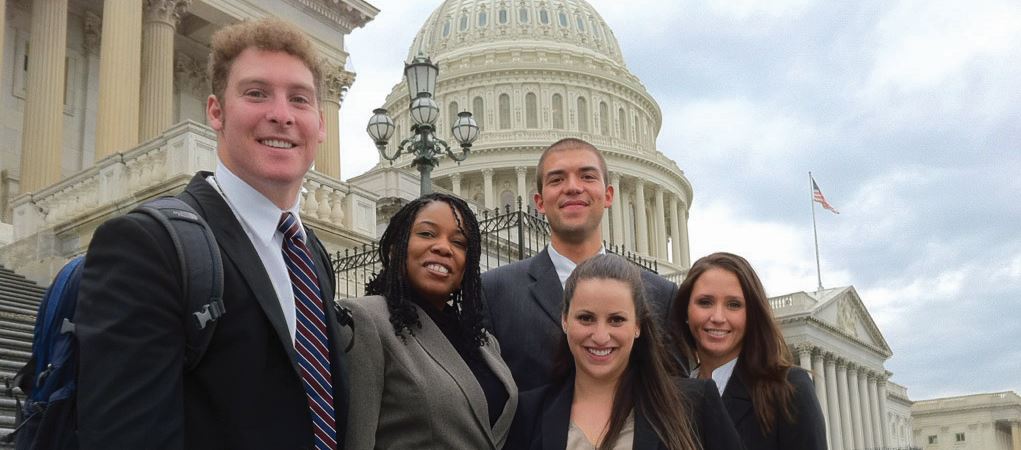 The Miami Law D.C. Semester in Practice program is an externship program that provides students with an opportunity to learn multiple dimensions of lawyering through integration of real-world practice experience and academic inquiry.
Typically offered in the Fall semester, students do their fieldwork at approved externship placements in Washington, D.C. in a diverse range of litigation, transactional and policy settings.
Under the supervision of a licensed attorney at the externship placement, students learn about a substantive area of law and develop skills required by lawyers such as interviewing, counseling, negotiation, legal analysis, problem-solving, and writing.
Hands-On Learning
Students have an opportunity to function "in-role" as an attorney with all of the corresponding professional and ethical demands. Students work at least 405 hours at their externship field placement during the semester and a specific work schedule is coordinated directly with a supervising attorney at the externship field placement.
In addition to classes, there are site visits as part of the required course work and can include visits to Capitol Hill and at the Supreme Court of the United States.
Academics
The classroom component of the course focuses on educational goals that capitalize on the fact that students are in a real-world practice setting and probes students to reflect upon what it means to be an effective lawyer in the particular practice setting and how to maximize the externship experience. Specifically, the classes offered further these goals:
Development of Professional Identity: Students explore and adjust to the many dimensions of their professional roles as lawyers. 
Training in Lawyering Skills: Students develop lawyering skills likely to be used during their externship. 
Analysis of Legal Systems and Institutions: Students gain insights into the functioning of the legal system and particular practice areas. 
Learning from Experience: Students learn how to engage in self-directed professional growth. Students also learn how to deal with issues that arise during the externship and how to get the most out of the externship experience.
Sample Course Topics
Competence and Confidentiality for the Legal Extern – exploring legal ethics issues that may arise in a legal externship including: interacting with a supervisor and other colleagues, defining the practice of law, professional and personal use of social media and dealing with tensions between legal ethics and personal/professional values.
Relationship-Building in the D.C. Community and Maintaining Relationships - efective professional relationships are critical to successful law practice; students learn strategies to maintain relationships with supervisors, opposing counsel, administrative staff and other professionals.
Meaningful Networking - topics covered include: the importance of relationships over the course of one's legal career, establishing one's professional reputation, and maximizing and maintaining relationships developed during the externship.
Faculty
Mindy (Reinstein) Brodsky is the Adjunct Faculty for this course. She has primarily worked in public service in the D.C. area since graduating from Miami Law in 2008. She has held jobs at the Network of Jewish Human Service Agencies, the Jewish Federations of North America, the Anti-Defamation League, and at U.S. Congress as the Legislative Counsel to U.S. Congressman Alcee L. Hastings (FL-23).
At Miami Law she was a HOPE Fellow, received the Roger Sorino Award, the 2008 Exemplary Service to the Poor Award, and was the first Senior Fellow at the HOPE Public Interest Resource Center. She also was inducted into the prestigious Iron Arrow Society, served as President of the Society of Bar & Gavel, and participated in the Children & Youth Law Clinic and Miami STREET Law. 
For Information
The program provides the support needed for a successful externship experience. For more information on the program contact:
Kele Stewart, Associate Dean for Experiential Learning, Professor of Law, and Co-Director, Children & Youth Law Clinic: kstewart@law.miami.edu