EJC Interns are 2Ls who receive credit for their work with the clinic. EJC Fellows are 3Ls who were previously Interns and are either receiving credit or stipends for their work with the clinic. Interns and Fellows work on current EJC campaigns and projects for both the Fall and Spring semesters. EJC summer interns continue the work of the clinic during the summer session.
---
2019-2020 INTERNS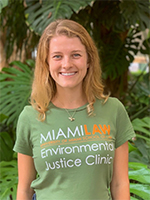 Bethany Blakeman is currently a 2L Environmental Justice Clinic Intern. She is pursuing a joint J.D./Master of Professional Science degree at the Rosenstiel School of Marine and Atmospheric Sciences in Coastal Zone Management. A Miami native, Bethany graduated from Georgetown University in 2016 with a degree in government and a minor in journalism. In addition to the Environmental Justice Clinic, Bethany is the vice president of the Environmental Law Society and is a member of the International and Comparative Law Review. She is interested in ocean conservation and climate change, particularly the relationship between coastal communities and the ocean resources they depend on. If you see her at the beach, she'll be the one picking up trash. Outside of law school, Bethany loves to read (fiction, non-fiction, long-form journalism - all of it!) workout, go to the movies, and relax with her dogs.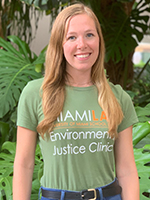 Natalie Cavellier is currently a 2L Environmental Justice Clinic Intern. She graduated from the University of California Santa Cruz with a BA in Environmental Studies and Legal Studies, and from University of Miami's Rosenstiel School of Marine and Atmospheric Science with a Masters of Professional Studies degree in Coastal Zone Management. Natalie has focused her study on the interaction between human development and coastlines, she finished her masters by studying climate change displacement in the South Pacific and refugee law. Natalie spent the summer interning with Norwegian Cruise Lines, where she worked on environmental compliance and regulation. Understanding all of the stakeholders in areas vulnerable to climate change in order to create workable solutions continues to be her passion.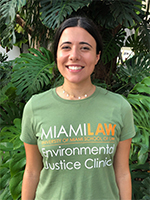 Alexandra Cimo is currently a 2L Environmental Justice Clinic Intern. She graduated from Georgetown University where she majored in English and minored in Spanish. In her junior year, she took a class called "Literary Representations of the City", where she analyzed issues that particular communities were facing, the most pressing for her being gentrification. She began to realize how Washington, D.C. had transformed in the 3 short years she was studying because of the new large developments that were pushing populations of long-time residents out of their homes. Alex became even more invested in this issue when she began to intern at a public elementary school in Shaw, a low income area undergoing gentrification. The large intersection between gentrification and environmental issues inspired Alex to want to bring her knowledge back to her hometown, Miami, and help fight environmental issues that her community had been facing. As an EJC intern, Alex hopes to learn more about gentrification in the Miami-Dade area, help community members fight the injustices they face as a result of environmental racism, and help build an environmentally safer future for Miami.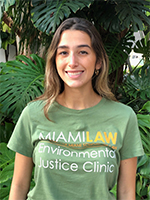 Gabriela Falla is currently a 2L Environmental Justice Clinic Intern. She received her Bachelor's Degree from Boston University where she studied Business Administration and Management with a concentration in Business Law and Organization Behavior. Through student projects as an undergraduate student, Gaby became involved with various non-profit organizations, including the Green Restaurant Association, a non-profit with a mission to create a more sustainable restaurant industry. During her work, she was introduced to the food justice discourse that initially peaked her fascination about how the intersection of food and law can help address the various health, environmental, and economic issues facing our communities. As an EJC intern she hopes to problem solve with her peers, as well as community members, to address pressing issues relating to climate and sustainability.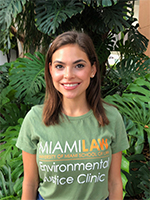 Christina Ferreiro is currently a 2L Environmental Justice Clinic Intern. She is a member of the Miami Scholars Public Interest Program and the Race and Social Justice Law Review. Christina was born and raised in Miami, Florida, she graduated from the Florida State University summa cumme laude in 2018 with a B.S. in Sociology and Political Science. During her undergraduate senior year, Christina focused her studies on medical sociology and epidemiology to understand the impact of socioeconomic class on health. Christina spent her 1L summer interning for the American Civil Liberties Union of Florida working on legal and policy issues pertaining to immigration, criminal justice reform, and voting reform. Christina hopes to use impact litigation to advance the constitutional and civil rights of marginalized communities.
Hannah Hays is currently a 2L Environmental Justice Clinic Intern. She graduated from the Boston College Lynch School of Education with a B.A. in Applied Psychology and Human Development with a focus in Community, Advocacy, and Social Policy, and continued on in Lynch to earn her M.A. in Higher Education Policy through a lens of Critical Race Theory and Settler Colonialism in May 2018. Prior to coming to law school, she worked with the Urban Outreach Initiatives Office at Boston College for six years, holding leadership roles within the College Bound Preparatory Program serving as a mentor, the Community Partnerships Coordinator, and the College Bound Program Coordinator. During her 1L summer Hannah served as an intern for the Community Justice Project in Miami, helping to collaborate with community organizers and grassroots groups to create a more just society through social movement. As a 2L, Hannah is serving as the Program Coordinator for the Battier Foundation Take Charge GUIDE Program, the Vice President of the law school's National Lawyers Guild Chapter and the Activism Chair for OUTLaw.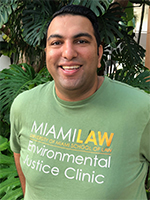 Sam Ludington is currently a 2L Environmental Justice Clinic Intern and is a Miami Public Interest Scholar. This summer, Sam was fortunate to serve as a judicial intern with Judge Kathleen M. Williams, of the United States Southern District, as well as a legal clerk for the Ft. Lauderdale office of Boies Schiller & Flexner. Prior to law school, Sam served as the Deputy Director of Children of Inmates, Inc., where he oversaw the organization's government relations and grant-writing. Sam graduated from Northwestern University in Evanston, Illinois with a Bachelor of Economics in June 2009. Sam is also graduate of the Greater Miami Chamber of Commerce Leadership Miami Program, Leadership Florida's Connect Florida and the Miami Foundation's Miami Fellows. The son of a Haitian-American single mother, Sam is extremely proud of his Haitian heritage.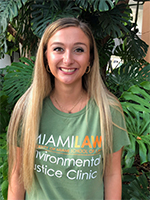 Madison Ogden is currently a 2L Environmental Justice Clinic Intern. Madison is from Santa Fe, TX, a small town on the outskirts of Houston. She attended The University of Texas at Austin and graduated with a degree in Corporate Communications with a Business Foundations certificate. While taking several Social Science courses during her time at UT, she developed an interest and passion for social justice issues, specifically the systemic oppression that minorities continuously face in every aspect of life. After interning at Children's Hospital Los Angeles, she decided law school was in her future and selected University of Miami. The summer before 2L, Madison interned at The Buzbee Law Firm in Houston, Texas where she researched a wide range of various legal topics, drafted motions, and assisted with depositions.
Help us Make a Difference