In May 2020, the Center for Ethics and Public Service launched a new initiative to address health disparities in Miami-Dade County.
In the first months of the coronavirus pandemic, the Center's community partners voiced serious concerns about the pandemic's disproportionate impact and ongoing toll on their communities. The Center partnered with Miami's Miller School of Medicine and Sylvester Comprehensive Cancer Center to begin tracking and addressing health disparities in communities of color laid bare by the pandemic. We envision a long-term collaboration alongside our community partners to address health equity.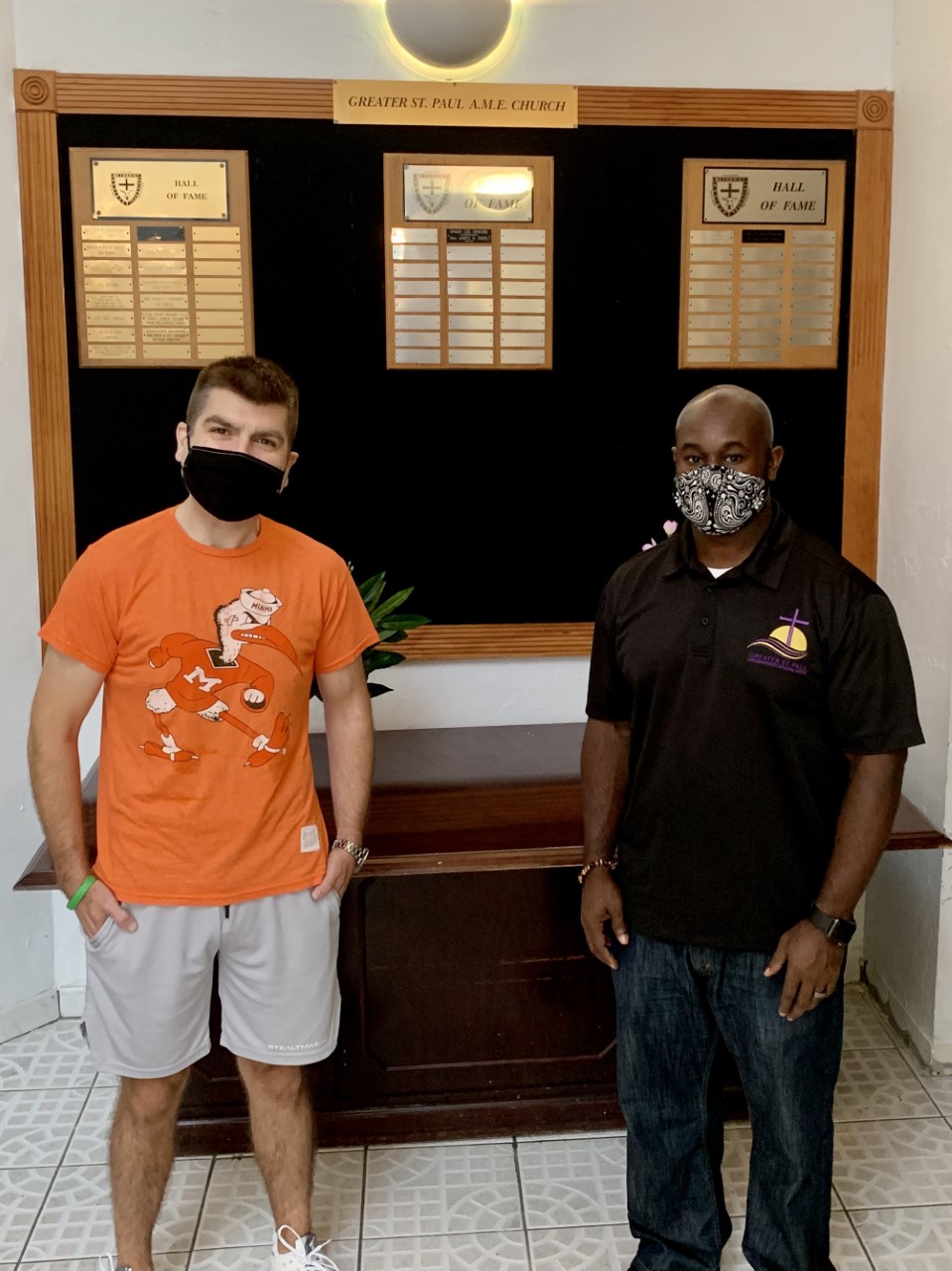 (Pictured L to R: Dr. Timothy Loftus and Rev. Nathaniel Robinson, Pastor, St. Paul's AME) 
Our initial research focuses on tracking social determinants of health in our partner communities and linking those determinants to law and policy with a data-driven approach. Because of the Center's track record in environmental justice, our ongoing research efforts contemplate the complex links between the built environment and physical and mental health outcomes. Using ArcGIS software, we interpret the geographical patterns in social determinants of health to gain further granularity around the effects of geographic and social disruption in local communities.
Our legal and policy research seeks to identify specific indicators, practices, laws and policies that influence these underlying forces. By identifying systems and policies that either knowingly or unknowingly perpetuate harm or operate as barriers, the project can facilitate productive change using the full array of law reform and policy remedies.
Leadership
Timothy Loftus, MD, JD, Health Disparities Project Fredman Family Foundation
Practitioner-in-Residence and Lecturer
Partners
Miller School of Medicine
Shirin Shafazand, MD, MS - Professor of Medicine, Deputy Director of MD/MPH Program, Director of Pulmonary Hypertension Program
Zinzi Bailey, ScD, MSPH - Epidemiologist, Research Assistant Professor, Division of Medical Oncology, Department of Medicine

Sylvester Comprehensive Cancer Center
Erin Kobetz, PhD, MPH - Vice Provost for Research, Professor, Associate Director for Population Science and Cancer Disparity
Brandon Mahal, MD - Assistant Professor of Radiation Oncology, Assistant Director of Community Outreach and Engagement

Department of Public Health Science, Division of Biostatistics
Alejandro Max Antonio, PhD, MA - Lead Research Analyst, Department of Public Health Science, Division of Biostatistics, Biostatistics Collaboration and Consulting Core (BCCC)

University of Miami Richter Library
Abraham Kaleo Parrish, MA, MLIS - GIS Services Librarian, University of Miami Richter Library

Department of Geography and Regional Studies
Justin Stoler, PhD, MPH - Associate Professor, Department of Geography and Regional Studies, Department of Public Health Sciences; Faculty Scholar, Abess Center for Ecosystem Science and Policy (2019-2020)
In the News
Health Care Law: Miami Law Students Partner with Community Alliances and Miller School of Medicine on Health Disparities Project
Project Activities
Community and stakeholder engagement and partnership
Law and policy research at federal, state, and local levels
ArcGIS mapping to link social determinants of health to geographical displacement
Health survey development and implementation
Community-centered solution development and advocacy
Related curriculum development
Podcast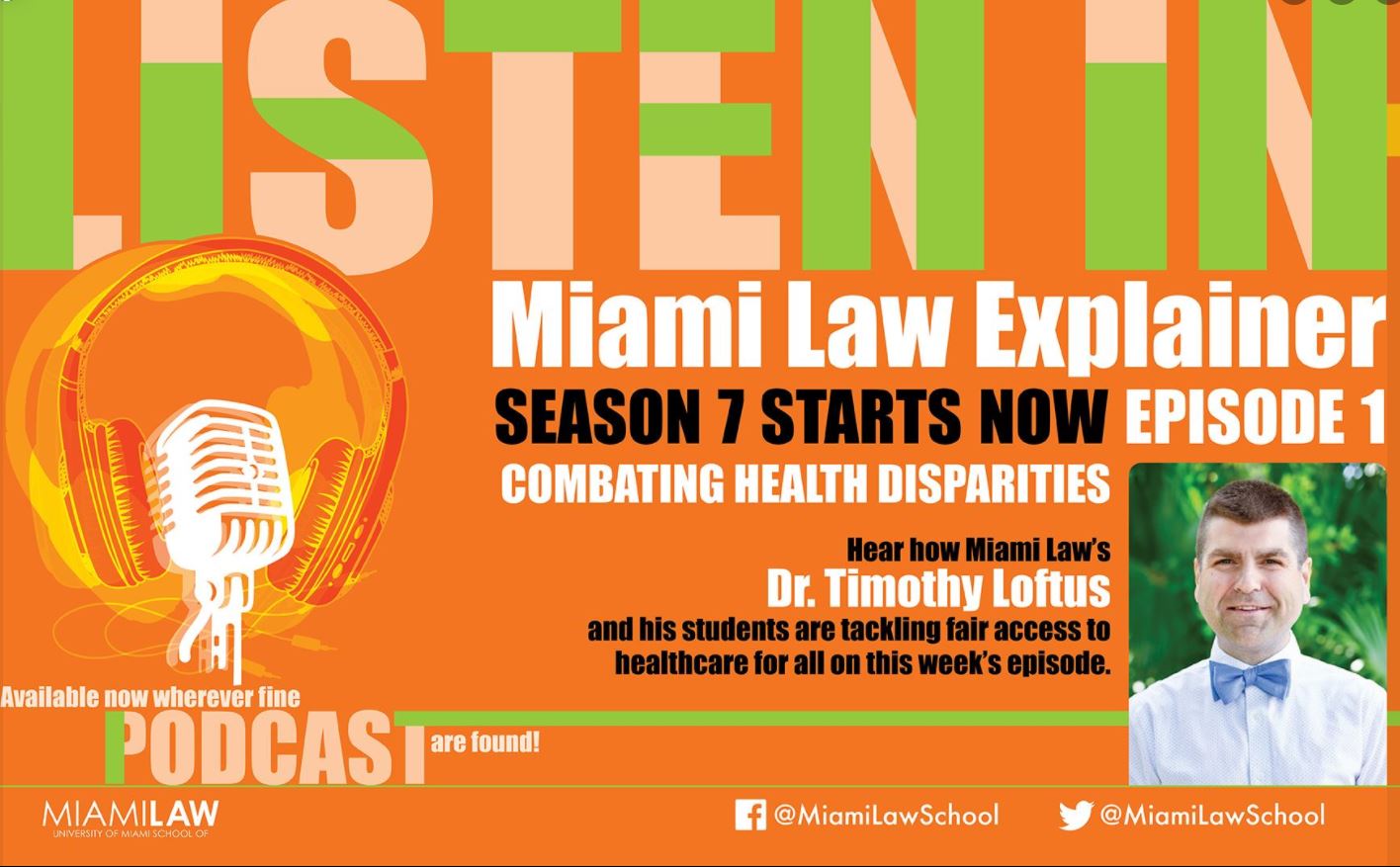 LISTEN IN: Dr. Loftus and Health Disparity Fellows Discuss Project Launch in Miami Law Explainer Podcast
Miami-Dade County: A Legacy of Environmental Injustice
Created by Brown University Students: Mia Mitchell '23 and Reese Fry '22