MISSION

Founded in 1996, the Center for Ethics and Public Service is a law school-housed experiential education, skills training, and community engagement program devoted to the values of ethical judgment, professional responsibility, and public service in law and society. The Center's mission is to educate law students to serve their communities as citizen lawyers.In April 2016, the University of Miami Faculty Senate unanimously approved the five-year continuance of the Center.

HISTORY

For 24 years, the Center has served as an incubator and an accelerator for numerous public service projects at the law school. The projects include clinics (Children and Youth Law Clinic, Community Lawyering Clinic, Health Law Clinic, Social Enterprise Clinic, and Environmental Justice Clinic), programs (Dartmouth College Ethics Institute Internship Program, Professional Responsibility and Ethics Program, Street Law Program, and Joint College of Arts & Sciences Program on Law, Public Policy, and Ethics), summer colloquia (UM Environmental Justice, Policy, & Science Consortium), and documentary films (Oral History & Documentary Film Project). The Oral History & Documentary Film Project compiles oral history archives and produces film documentaries to preserve the cultural and social history of low- and moderate-income communities of color in South Florida. Since 2010, the project has produced five films documenting the history of Coconut Grove Village West, public school segregation in Miami-Dade County, and environmental injustice in the City of Miami.

PROGRAMS
The Center operates three programs: the Historic Black Church Program, the Legal Profession Roundtable Program, and the Community Equity, Innovation, and Resource Lab. The Programs collaborate with schools across the University of Miami as well as the Florida bar and bench, civil rights and environmental organizations, faith-based groups, nonprofit corporations, and civic and neighborhood associations. 

COMMUNITY IMPACT

Since 1996, the Center has trained over 1,265 fellows and interns, and served more than 46,700 members of the Florida community, including university undergraduate and graduate students, government agencies, high schools and middle schools, homeowners and tenants, lawyers and judges, nonprofit organizations and neighborhood associations, and civic leaders. In addition, the Center's faculty has been widely cited in law journals and in the media.
---
In the News
Proposal meant to curb overdevelopment in Coconut Grove stalls at Miami commission
'Who gave it, who got it?' How political influence in Miami is bought — and concealed
Does current building code violate fair housing?
Coconut Grove: Zoned divided – Current building codes causing segregation could violate Fair Housing Act
With overwhelming support from voters, Miami Beach creates a watchdog for City Hall
Removal begins Thursday for Dunbar's toxic sludge
Fifty-six years later, Fort Myers prepares to remove toxic sludge
Dunbar toxic sludge lawsuit gets a jury trial date
Fort Myers toxic sludge neighbors have their first day in court
Decision to hear Fort Myers residents' toxic sludge case is in judge's hands
Fort Myers files motion to dismiss claims of toxic sludge neighbors
Environmental Racism Research, Activism Wins Student 2018 MCCJ Silver Medallion
Friends of Everglades - Marjorie Stoneman Douglas' Organization – Bestowed Hoeveler Award
Dunbar property owners sue City of Fort Myers to clean up toxic sludge dump
Fort Myers mayor wants toxic city dump cleaned up as lawsuit looms
Test results from sludge site raise eyebrows, prompt more testing
A legend on Miami's federal bench, Judge William Hoeveler dies at 95
Toxic sludge addressed at Dunbar town hall
Homeowner: Re-fi denied due to city sludge site
Miami Sued for Dumping Cancer-Causing Toxic Ash on Segregated Neighborhood
Alumni: Where They Are Now and Testimonials
"The Center's Historic Black Church Program provided me with the opportunity to help challenge the displacement of low income communities of color, and I carry that experience with me into my current work as a housing attorney at Legal Services."
Nejla Calvo
Tenant's Rights Unit Staff Attorney, Legal Services of Greater Miami, Inc.
"I owe a great part of my professional success and career satisfaction to the CEPS, as the hands-on clinical experience proved to be an invaluable step in securing my first job out of UM Law and has made giving back to the community a priority in my professional life."
Daniel M. Whyte
Senior Director of Business and Legal Affairs, Claro Video, Inc.
"Through my involvement with the Center for Ethics & Public Service, I learned the importance of public service and mentoring and gained a broader perspective and more balanced viewpoint. I think that I am more compassionate and well-rounded lawyer because of my participation."
Christina Pacheco
Assistant Attorney General, Florida Office of the Attorney General
"I stay grounded by continuing to service on the CEPS Advisory Board and outside counsel for Greater St. Paul AME, supporting all the great work the students are doing."
D. Porpoise Evans
Partner, Perlman, Bajandas, Yevoli & Albrights
"As for the Center, it was one of the highlights of my law school experience. It revealed the impact that this profession can have when a group of talented, motivated, and genuinely good people offer their time and talents to the community. This lesson has stayed with me and affected my pro bono efforts throughout my career."
Ron Tomassi
Shareholder, Greenberg Traurig LLp
"CEPS gave me an opportunity to explore legal employment first-hand and hear about the experiences of others. This was BEYOND valuable, in terms of deciding which path of public service would be best for me, and I am forever grateful!" 
Rob Collins
Education & Outreach Coordinator
Housing Opportunities Project for Excellence
"The Center was the ONLY part of my entire law school experience, with the exception of the LitSkills course, that gave me real life experience and the opportunity to work with (and deal with) real clients, with real issures that we could actually help. The Center was definitely a contributor to my confidence and ability to practice immediately after law school."
Jennifer C. Pratt
Pratt Law
"CEPS taught me how to make my practice more client-oriented, appreciate and develop diverse teams, and support social jusitce work by partnering with local organizations and the organizers that make them run and carry out the vision of the people.": 
Quinn Smith
Managing Partner, GST LLP
"My experience at CEPS highlighted the various legal career paths available within the public sector, and the importance of individual public service in creating the change we wish to see in the world." 
Monik Williams
Federal Attorney
Department of Health & Human Services
"The Center does great work and is a wonderful way for students to learn while helping others." 
Patrick R. Sullivan
Partner, Lubell Rosen
Interdisciplinary Partners
Abess Center for Ecosystem Science and Policy

     Kenneth Broad
     Director, Abess Center; Professor, Marine Ecosystems and Society, RSMAS

     Andee L. Holzman
     Assistant Director, Abess Center

     Gina Maranto
     Senior Lecturer, Co-Director, Ecosystem Science and Policy
     Graduate Program Coordinator, Environmental Science and Policy    
Miller School of Medicine (UMMSM) MD/MPH


     Roderick K. King, M.D., M.P.H.
     Director, Miller School of Medicine's M.D./M.P.H. Program, Assistant Dean for Public Health
     Education
 
School of Education and Human Development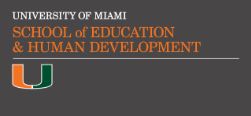 Dina Birman
     Professor, Educational and Psychological Studies Director, Community Well-Being Ph.D. Program
     (CWB) Editor in Chief, International Journal of Intercultural Relations
     Scot Evans
     Associate Professor, Director of major in Human and Social Development
     Guerda Nicolas
     Professor, Educational and Psychological Studies
     Ashmeet Oberoi
     Clinical Assistant Professor and Director, Community and Social Change Master's Program
     Ed Trickett
     Visiting Professor and Community Well-Being Scholar
     Laura Kohn-Wood
     Chair and Professor, Educational and Psychological Studies
School of Communication

     Jyotika Ramaprasad
     Professor, School of Communication
Publications
Awards
Awards Received by the Center
2014 Miami People, Miami New Times
2014 Community Recognition Award, G.W. Carver High School Alumni Association
2012 E. Smythe Gambrell Professionalism Award American Bar Association
2012 Innovative Service in Public Interest Award University of Miami School of Law
2009 Innovative Service in Public Interest Award University of Miami School of Law
2009 Exemplary Service to the Poor Award University of Miami School of Law
2011 Appreciation Award, Coconut Grove Ministerial Alliance, Inc. 
2007 William Pincus Award Association of American Law Schools Section on Clinical Education
2007 Father Robert Drinan Award Association of American Law Schools Section on Pro Bono and Public Service
2007 Innovative Service in the Public Interest Award University of Miami School of Law
2004-2005 Gary Bellow Scholar Award Association of American Law Schools Section on Clinical Education
2002 Circle of Omicron Delta Kappa National Leadership Honor Society
2001 Arete Award Miami-Dade County Commission on Ethics and Public Trust
2000 Seventh Annual Professionalism Award The Florida Bar
1999 Faculty Professionalism Award Florida Supreme Court
1998 E. Smythe Gambrell Professionalism Award American Bar Association
For More Information