The law school is situated on the 239-acre campus of the University of Miami in suburban Coral Gables, Florida. 
Virtual Class Visits
Prospective and admitted students are able to observe live law school classes virtually. These virtual visits are non-participative and will not permit guests to enable their audio or webcam. Seats are limited. To view the available class offerings, please select based upon your application status below.
Campus Tours and Visits
Virtual Campus Tours
Join a current law student or admissions representative on an interactive virtual tour of the University of Miami School of Law. Each 60-minute virtual tour will be limited to 20 participants per session to allow for questions and discussion. Virtual tours are offered on Wednesdays at 12:30 PM ET. Click here to reserve your spot.
In-Person Campus Tours
Attend an in-person campus tour led by a current law student or admissions representative. The option to speak with an admissions counselor will be available before or after the tours. In-person tours are offered on Fridays at 12:00 PM. Click here to register for the tour.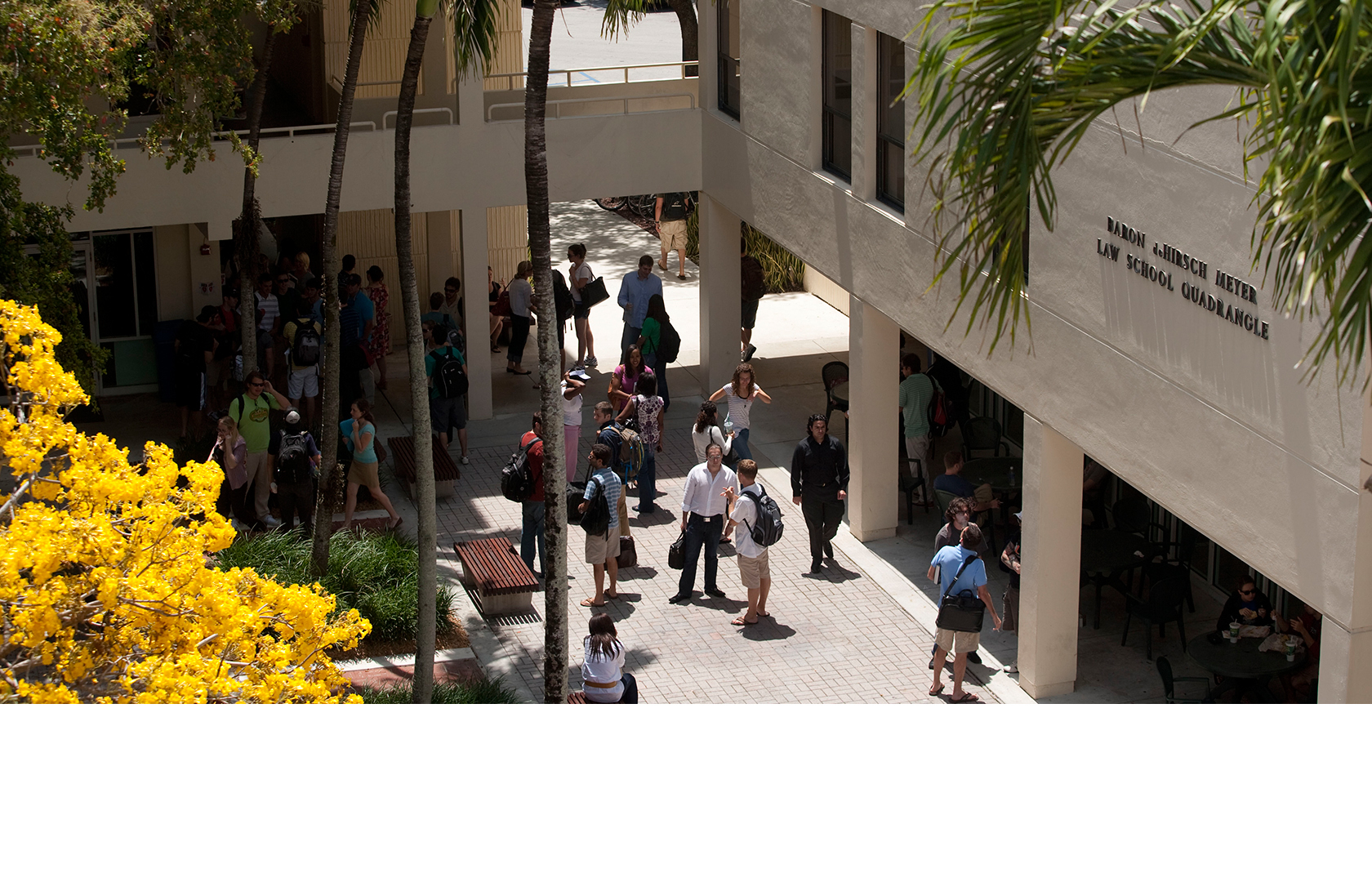 Getting to Miami Law 
By Car
See Directions, Parking, Map for the law school.
By Air
There is very convenient airport access to the University of Miami. Miami International Airport (MIA) is just 7 miles from campus. Another airport option is Fort Lauderdale Airport (FLL) about 30 miles north. Click here for more information.
By Train
Miami-Dade County's 25-mile Metrorail elevated rapid transit system connects the campus at University Station to downtown Miami and other stops in Miami-Dade County. It also provides service to Miami International Airport (MIA) and runs from Kendall through South Miami, Coral Gables, and downtown Miami. It also has connections to Broward and Palm Beach counties at the Tri-Rail/Metrorail transfer station and Tri-Rail offers stops as far north as West Palm Beach.
By Bus
There is Miami-Dade Metrobus service with stops at the University of Miami. Once on campus, there is the Hurry 'Canes Shuttle which stops throughout campus and at the law school. 
By Bike/On Foot
For more information on how to navigate around campus, please see the University's campus map.
Accommodations
The University of Miami offers discounted rates with local hotels for all University of Miami faculty, staff, and students.