Dear Miami Law Students, Alumni, Donors, Friends and Community Members:
My initial months have exceeded my most optimistic hopes and that's all thanks to you. Within hours of accepting the position as Dean of Miami Law I set out to meet as many of you as I could, both one-on-one and in small groups, in what I have called a "listening and learning tour" – not only getting acquainted with you as my new Miami Law family members, but also learning about your individual and collective aspirations for our law school's future.
You welcomed me in a way only Miami Law could welcome me. You shared your dreams for our law school, your concerns, and your advice.
I listened to you. I learned a great deal from you. This is shaping up to be not just my decanal vision, but our vision – our Miami Law community vision, for how we will work together to reach new heights in the years to come.
These are the three overarching values that encapsulate my vision for the law school:
Excellence in our scholarship, in our teaching, in serving our students and alumni and the broader community and profession – ensuring that Miami Law excels as an innovative leader in legal education, domestically, hemispherically, and globally.
Prominence in how we share the accomplishments of all of our community members with the world outside of our campus and with each other, and in how we assume a more visible and engaged role in regional, national, and international circles.
Community, recognizing that Miami Law's biggest strength is its people. Us. Every single one of us. Faculty, students, staff, and alumni. Ensuring that every one of us is connected, empowered, and engaged, helps all of us succeed as one law school.
See vision elements
Elevate our visibility and reputation nationally and internationally.
Miami Law is a "best kept secret" in American legal education. We know about the excellence of our faculty, students and staff, the richness of our curriculum and programs, and how our alumni are national and international leaders of the profession. But we need to do all we can to share this good news with the nation, the hemisphere, and the world.
 
Promote excellence and innovation in our scholarship and teaching.
Miami Law will build on our excellence in scholarship and pedagogical innovation. We will expand our support for faculty scholarship, promote the outstanding work of our faculty, and create new initiatives for ensuring that our teaching is at the cutting edge of legal education, both in traditional "brick and mortar" classrooms, in experiential offerings, and via online and hybrid teaching platforms.
 
Ensure that our curriculum is state-of-the-art, producing graduates who are well-rounded and practice-ready.
We will continue to optimize our curricular offerings while leveraging opportunities across the UM campus for interdisciplinary endeavors in STEM and other fields. We will build on existing areas of curricular excellence as we strengthen or introduce other areas of study linked to significant demand in practice – such as international and comparative law, alternative dispute resolution (ADR), environmental law, criminal law, health law, business law, litigation skills/trial advocacy, and other areas. We will consult with the bench and bar to ensure that our curriculum meets the emerging demands of modern law practice – including challenges posed by artificial intelligence and other disruptive technologies – and that we graduate students ready to excel in practice upon graduation. We, also, will act entrepreneurially in developing new degree programs beyond the J.D. and LL.M. that respond to the needs of today's students, the profession, and the marketplace.
 
Strive to equip our students to pass the bar exam on their first attempt and to secure good employment at graduation in jobs for which a J.D. is required or an advantage.
We will strive to provide an even higher level of individualized and effective services to our students so that they can achieve both goals promptly after receiving their Miami Law degree.
 
Ensure external measures and metrics better reflect our quality and achievements.
External quality indicators (law school rankings, scholarship ratings, etc.) tell only part of the story of a law school's quality, but we should always endeavor to put our best foot forward to make the most positive impression.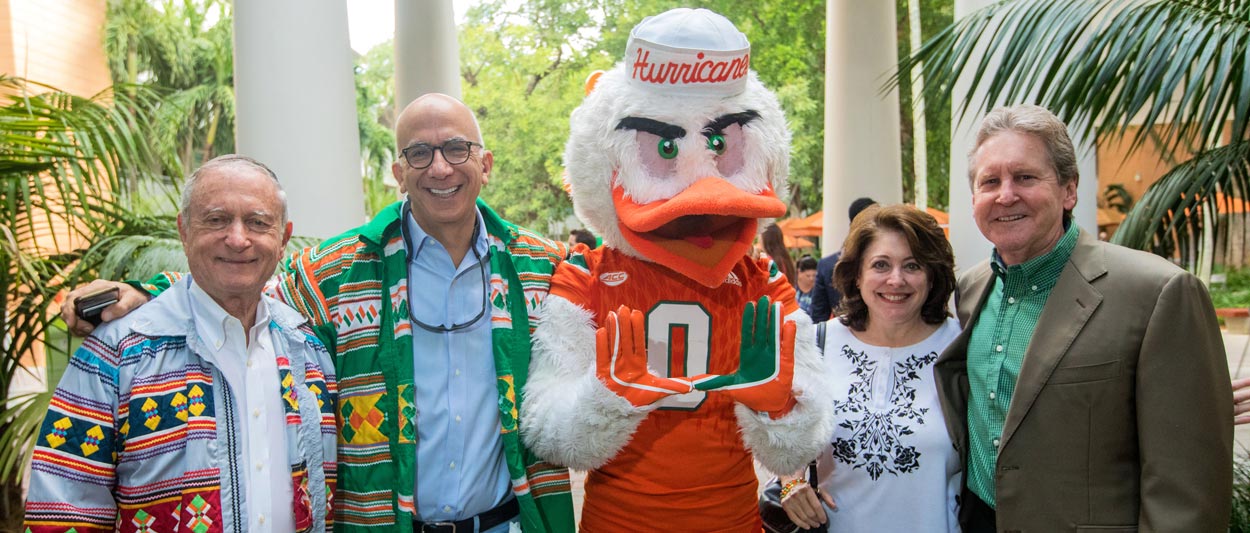 Build our connections with and celebrate the achievements of our alumni. Be more visible and connected to the South Florida legal community and the broader legal profession.
Our alumni are extraordinary practitioners, jurists, entrepreneurs, government officials, and leaders of the profession throughout the United States and the world. We will find better ways to connect and communicate with them and to showcase their accomplishments. We also will ensure that Miami Law is more present and engaged with the broader South Florida practice community, not only being in but also of the community.
 
Improve the student experience at Miami Law.
Our network of student services programs and resources already is among the best of any law school in the nation, but we should continue to assess students' needs and improve our students' experience and overall wellness at the law school – from 1L and LL.M. orientation through graduation and beyond. We especially should ensure – with the help of generous law school benefactors – that we maximize financial resources available to students (scholarships, etc.), limit student debt, and reduce law school operational expenses to keep cost of attendance as low as possible.
 
Ensure that our staff structure is the best it can be to maximize organizational efficiency and effectiveness, as well as the delivery of high quality service to students and faculty.
I am honored to have as staff colleagues at Miami Law national leaders in legal education, administration, and student services. We should provide Miami Law's staff opportunities and encouragement for growth. We should celebrate their achievements, and furnish them with an organizational structure that ensures proper and supportive guidance and mentoring, as well as a work environment that promotes their wellness.
 
Value and celebrate diversity and inclusion.
Miami Law's diversity – amongst our students, faculty, staff, and alumni – is one of our greatest strengths and competitive advantages. Our diversity enhances the quality and breadth of our curriculum, enriches the classroom experiences of our students and faculty alike, empowers us to make better decisions as faculty and administrators, and helps prepare all of our students for the demands of practice in a richly diverse region, nation, and world. We need to continue to cultivate this diversity, continue to promote a culture of inclusion and thoughtful and civil engagement, and ensure that all members of our community – every single member – feels at home, valued, and welcome to engage as an important part of the Miami Law family.
 
Modernize our facilities.
Our Miami Law physical complex has served us well for many decades, and we are fortunate to call home the beautiful campus of the University of Miami. But we must address upgrading our facilities to ensure that they are well-matched to our current and future needs.
 
---
This vision for Miami Law is an unapologetically ambitious one, but it is one that we can achieve if we all work hard towards it, together. I am confident that, with your help and dedication, we will achieve and even exceed the goals I have set out for us.
Thank you again for the warm Miami Law welcome. I look forward to working with you in the months and years to come.
Go 'Canes!