Miami Law provides students with broad academic and experiential learning opportunities in the field of human rights. Course offerings and experiential learning programs – including clinics, externships, fellowships and summer programs – provide students with the opportunity to develop their knowledge and skills working on human rights issues, both in the U.S. and abroad.
Academic & Experiential Learning Opportunities in Human Rights
International Human Rights Law: This course examines the substantial body of human rights law that has emerged in the last sixty years, following the foundational 1948 Universal Declaration of Human Rights.  It covers international and regional human rights treaties, organizations, and bodies, including courts and tribunals. It will also look at practice, implementation, and domestic application of international law. Lectures and seminar style components are complemented by class exercises to facilitate analysis of practical human rights issues.
International Human Rights Law is offered as a 1L elective and as an upper level course. Students present 5-minute "TED talks" on topics in human rights law. Click here to see TED Talks from former students.
Miami Law Clinics: Miami Law's award-winning clinics give students practical, hands-on lawyering experience, while also helping needy and under-represented individuals and groups in Miami and across the nation and the globe. 
The Human Rights Clinic provides students with firsthand experience in cutting-edge human rights litigation and advocacy at the local, national, regional and international levels. Students engage with the Inter-American Court and Commission on Human Rights, the European Court of Human Rights, the United Nations, and other tribunals.
Projects have included:
HOPE Public Interest Resource Center (HOPE)
Home to many opportunities to do human rights work nationally and internationally, HOPE also regularly hosts information sessions on landing a job, fellowship or internship in the public interest and in human rights. Opportunities include:
Scholarships granted to students with outstanding academic achievements and commitment to public service.
HOPE Fellowship Program - provides summer stipends to students to create their dream jobs in human rights and public interest anywhere across the globe.
Public Interest Leadership Board a student-run board comprised of a dynamic group of Miami Law students dedicated to public service, including human rights.
Career Development Office (CDO)
The CDO supports human rights law placements, advises students looking for human rights-related work, and provides information on Post-Graduate Fellowships.
Externship Program - Through this program, Miami Law students have had externship placements at regional and international human rights bodies and courts and organizations, including at the Inter-American Commission on Human Rights and at the International Criminal Court in The Hague, Netherlands, the American Civil Liberties Union, the Anti-Defamation League and the Florida Justice Institute.
Human Rights Courses & Seminars
Every semester the law school offers a range of human rights-related courses and seminars taught by our world-renowned faculty and visiting faculty from across the globe. 
Faculty in the Area of Human Rights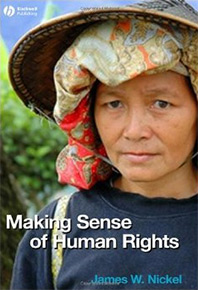 Miami Law is home to many world-renowned faculty who teach human rights courses, include human rights issues in their curriculum and/or are conducting human-rights related research. (Pictured: Faculty book, Making Sense of Human Rights by James W. Nickel, explains and defends the contemporary conception of human rights. Combining philosophical, legal and political approaches, Nickel explains international human rights law and addresses questions of justification and feasibility.)
Faculty Experts in Human Rights
A complete faculty list and detailed bios can be found in the faculty directory.
Human Rights Lecture Series and Conferences
Renowned human rights scholars, lawyers and advocates from around the world regularly visit Miami Law, giving public lectures, attending conferences and meeting with students and faculty. Miami Law faculty and students also contribute to these series and conferences on human rights issues.
Student-Run Activities
Miami Law has over 50 dynamic and diverse student organizations. Many include domestic and international human rights concerns in their work. Organizations such as American Constitution Society and International Law Society place a heavy emphasis on human rights issues.